A scheme has been launched to make local produce available to Hammersmith and Fulham shoppers who care about the food they eat.
The Food Assembly is the antidote to supermarket shopping, bringing producers and consumers closer and cutting wasteful food miles and packaging.
Shoppers order online, then collect on Thursdays, 6pm to 7.30pm, from the orchard garden of the Crabtree pub in Rainville Road, on Fulham's riverside.
Producers deliver in the morning, then volunteers pack individual orders - so salads and vegetables are often picked and harvested that day.
The concept has swept continental Europe - with Fulham one of the pioneering pick-up points in London.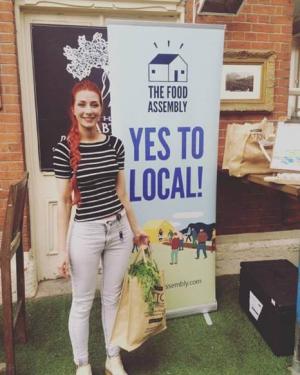 "It brings residents closer to producers and ensures producers receive a better price than supermarkets offer them," said organiser Lucy Hilbert. "It also reduces waste and the distance food travels before it is on our plates."
While fruit from the USA can travel 10,000 miles, the average distance of a product sold via the Food Assembly is a mere 26, with organic veg typically a third cheaper than supermarket prices.
"All our goods spend less than two hours in a van – traffic permitting – and come straight from the farm or kitchen of the people that make them," said Lucy.
The Fulham branch supplies bread, fresh seasonal and organic fruit and veg, allergen-free confectionery, sauces, fish, and free-range meat coming from an area of outstanding natural beauty.
There's no commitment to buy, it is free to join, and the service also allows the sharing of recipes and cooking tips.
From producers' point of view, they keep 80 per cent of the sale price, compared to 15 or 20 per cent from supermarkets.
Shirley Scott from Kombucha, which sells fermented teas, said: "This is an amazing source of customers that we would not normally reach. It's fulfilling to meet people who enjoy what we are producing. We're not just selling to anonymous people."
Shopper Judith Patton said: "It is a form of convenience shopping… but for stuff you're really excited about. It is good, fresh food and you know exactly where it has come from."
Packaging is minimised, with customers encouraged to bring their own bags and containers.
There are now 900 assemblies in France, Belgium, Spain, Italy, Germany and the UK, each locally run.
New customers can sign up to the Food Assembly, then place orders by midday on Tuesday for Thursday evening collection.