More than 5,000 residents have now joined their local neighbourhood on online social network Nextdoor in H&F.
Whether that's looking for a plumber, finding a running club or exchanging the latest hot restaurant tip, the app is a great way to get to know your neighbours and your neighbourhood better.
Residents been joined by scores of local community organisations who recognise the benefits of connecting with their neighbours. 
"Nextdoor can really help to build community spirit by not only keeping local residents in touch with their neighbours and what is going on in their area, but also by showing them how to get involved in helping in their community," said Cllr Sue Fennimore, Deputy Leader of H&F Council.   
It's proving a hit. More than 85 per cent of neighbourhoods in Hammersmith & Fulham now have more than 50 members. In the Shepherds Bush neighbourhood of Wendell Park alone, more than 600 members have now signed up to the free, private network.
Nextdoor in the community
Many community organisations have signed up to their local Nextdoor groups to post information about their events or classes, and have been surprised by the responses they have received from their neighbours.
Michael Angus is the Director of Barons Court Project, a day centre for people who are homeless or living with mental health problems. He said: "We see communicating with our neighbours as vitally important. 
"We are very much a local charity that wants to serve the local community. We wanted to ensure the community knew about us and were able to signpost people to us who might benefit from our service."
Michael's first posts on Nextdoor resulted in a number of financial donations – and also donations of toiletries for the homeless clients to use. "We were delighted," he said.  
The Project has also recruited a volunteer yoga teacher through Nextdoor. "Our yoga teacher moved away, so we advertised on Nextdoor to see if there was someone locally who could help. Within an hour we had received an enquiry and our new teacher will begin a weekly class in September."
"The whole purpose of the Barons Court Project is to build a sense of community for the people we serve. We have found that our neighbours on Nextdoor also care about their local community and about helping their neighbours."
Help for new mothers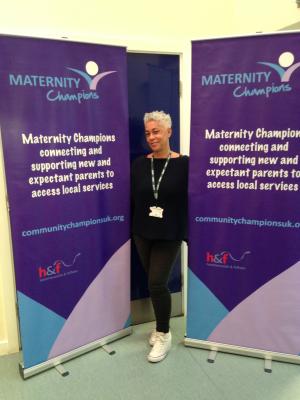 The H&F Community Champions are also using Nextdoor.
Carmella Obinyan, the maternity champion coordinator in Old Oak, has used Nextdoor to advertise Enjoy your Baby and Mend Mum classes at the Old Oak Centre, as well as local health and well-being events.  
"Many mums told me they wouldn't have known about the classes if it weren't for Nextdoor," Carmella said. "And it was really useful to hear suggestions about holding classes at different times for mums who work. We now encourage all new and expectant mums to sign up to Nextdoor.
"It's a great way to let local people know about services and activities, as well as building community spirit and support networks."