An exhibition of delicate oriental-themed paintings on rice paper is filling the walls of a tattoo studio in Hammersmith.
The pictures are the work of tattoo artist Nikole Lowe, who has produced a series of original 'xieyi' works of art, created using Chinese watercolours and traditional brushes on dyed Xuan paper, a natural material used in oriental art for more than 1,000 years.
The show runs until August at The Blue Tattoo in Studland Street, just off King Street – the studio run by 'Blue', together with a team of four resident tattoo artists and two piercers.
Images include birds, flowers and animals.
Xieyi is a freehand style of painting which literally means 'to write an idea'; the aim being to capture a concept in a few careful brushstrokes.
New Zealand-born Nikole, who has been tattooing since 1991, started painting in the distinctive style five years ago. "It's a Japanese style; it's different from the formal, strict world of tattooing," she said. "This is super-loose and freehand.
"I didn't go to art school, but I have had Chinese art lessons from Yean, who did a degree in this style of painting when she was in Singapore."
Nikole's pictures are framed and for sale, with prices starting from £150. The red printed symbol which appears on her pictures means 'Good Times', the name of Nikole's own tattoo studio.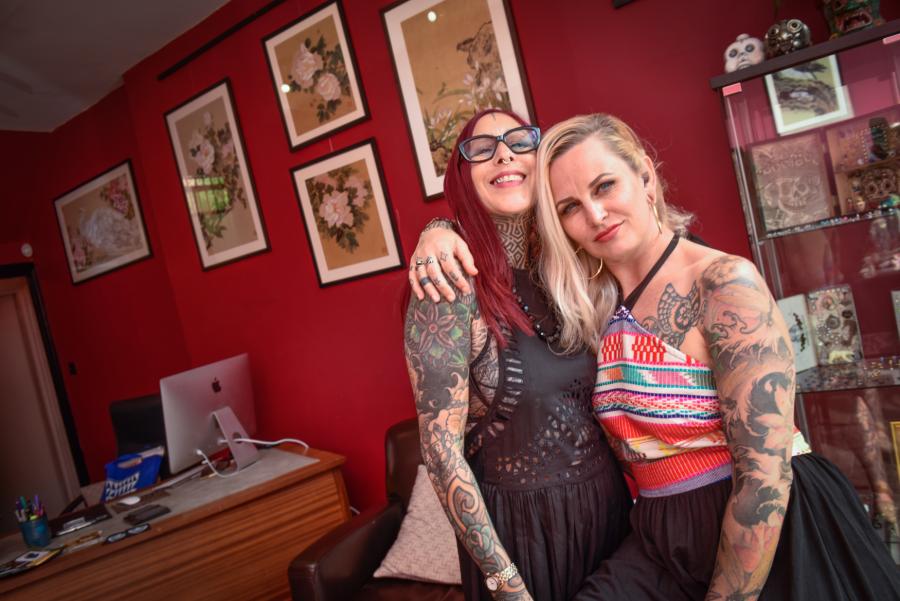 A gala opening evening this week, sponsored by Altos tequila, attracted a lot of interest from local residents.
Blue opened The Blue Tattoo earlier this year, in the former Primitive Origins shop.
"He wanted to sell, so it was perfect timing," she said, after leaving the legendary Into You tattoo shop in Clerkenwell, which she had run for nearly 20 years.
As well as resident tattoo artists, she has guest artists, including Joesus Chin, and she also plans to use the wall space for other framed-art shows.
"I've got three more shows planned between now and January, so I hope more people will come down, take a look, maybe buy a painting, get a tattoo and a piercing…!"
The Blue Tattoo is at 2 Studland Street, Hammersmith (near Ravenscourt Park tube), and the exhibition runs until 12 August. The show is open during the studio's usual hours: Tuesday-Saturday, noon-7pm.