Hammersmith & Fulham Council update
From the Clem Attlee estate to the White City Community Centre we've seen residents, businesses, charities and visitors alike come together to help the community in North Kensington in their hour of need. People have come from every corner of the borough to help the residents of Grenfell Tower and their relatives following Wednesday morning's horrific fire. 
Whether it's by giving money, volunteering time or donating supplies to organisations such as St Andrew's Church in Fulham, the Barons Court Project or football clubs such as QPR and Fulham, the outpouring of help has been immense.
H&F Council Leader, Cllr Stephen Cowan, spoke on behalf of the borough, saying: "My thoughts go out to all those people who have lost loved ones and who have been frantically trying to find out what has happened to their loved ones. They have lost their homes and everything they own. 
"The emergency services have done and are doing an amazing job. Our NHS, fire, police and ambulance services have been outstanding as have council officers, volunteers and community groups – many are still working now.
"Along with many of our residents, Hammersmith & Fulham Council quickly offered help and we have been assisting our neighbours in Kensington and Chelsea Council who are doing everything they can.
"I visited the area on the day of the fire to see the community centre on the Edward Woods Estate and at St Clements Church on Sirdar Road in Kensington, two of the rest centres being run by Hammersmith & Fulham Council officers. 
"Community groups, businesses and lots of compassionate people have been dropping off food, drink, clothing, toiletries, children's toys and books, and other vital supplies. Their kindness is showing London at its best. 
"I am advised that while we have enough supplies at the moment, cash donations are still very welcome which can be made to the British Red Cross' London Fire Relief Fund."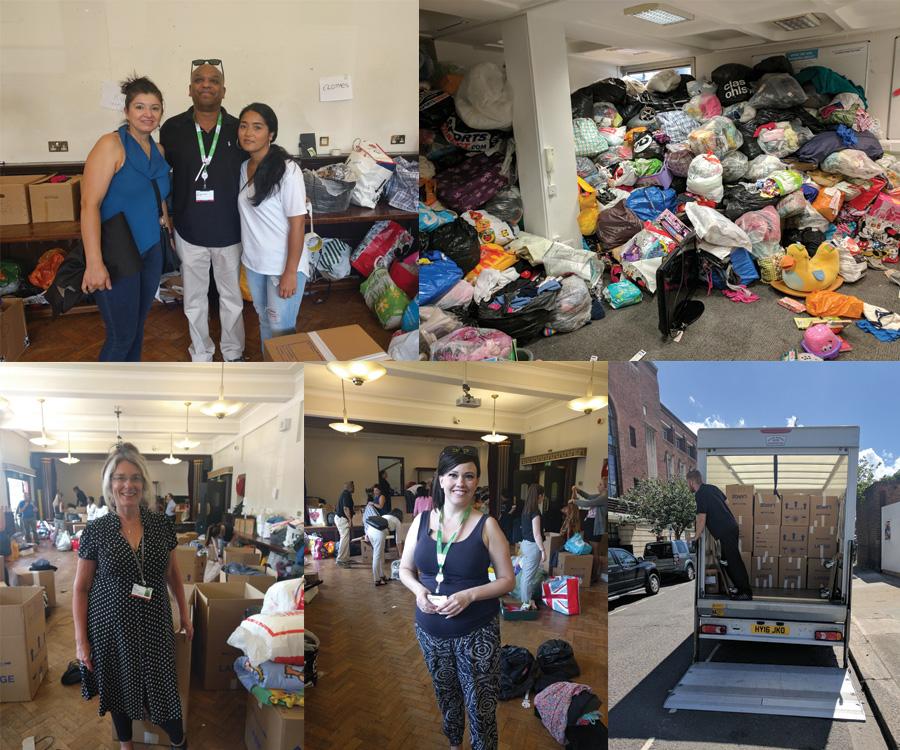 Volunteers at work
Kim Shearer, who works in the resident involvement team in H&F Council's housing service, had been given time off by her boss to help with the sorting and packing of donations.
She said: "Yesterday I was up at the Edward Woods estate community centre where donations were coming in. There were kids there who had been through their toys, bringing bits and pieces, just to help.
"And I'm here today to do a tiny little bit to help out, and get this shipped out to where it's needed. The most wonderful thing was sorting through these things we found a really beautiful card that a child had written, and put in with their toys, addressed to the people at Grenfell. It just restored my faith in humanity."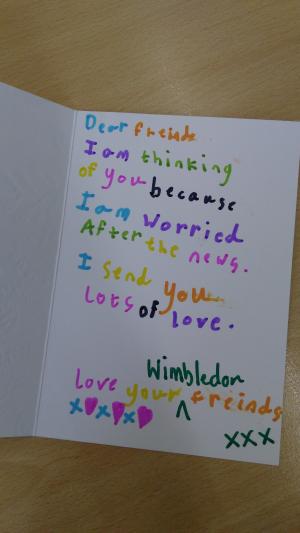 Scores of volunteers also rolled up their sleeves at Hammersmith Town Hall to help. Volunteer Polly Devenish came all the way from Woking to help her sister, a member of H&F Council staff, sift through clothing and toy donations for Grenfell residents at Hammersmith Town Hall.
"I brought a car-load of donations with me from Woking, which friends and family had gathered," she said. "We brought nappies, baby wipes, infant formula, sterilising equipment, dummies, sippy cups – I was trying to think, as a mum of four, what I'd be desperate for if I'd lost everything."
Fellow volunteer Monica Munoz, from Brixton, said: "Today's my day off, and I would have been sat at home. I just thought it was too sad to be sitting at home watching the news, and I wanted to do something to help."
While Chris Benjamin said: "We have been boxing-up donations for the last three or four hours, and we're also promoting donations to the disaster fund through our website. It's really hit home seeing the donations: children's wear and nappies, shoes, adults clothing, bedding – the sort of thing people need.
And Dolly Garvez from Shepherds Bush said: "I've worked with the charity sector for years, and I just wanted to help out. It makes me feel good that I can do something to help, but I'm upset and surprised anything like this can happen in London."
Cllr Sue Fennimore, Deputy Leader of H&F Council, has thanked all of the residents and staff who helped out across H&F by saying: "It was incredible to see so many people helping out at community centres, the town hall, estates and businesses by packing boxes, bringing items and just showing the spirit that makes London such a unique place to live. We thank you for your kindness."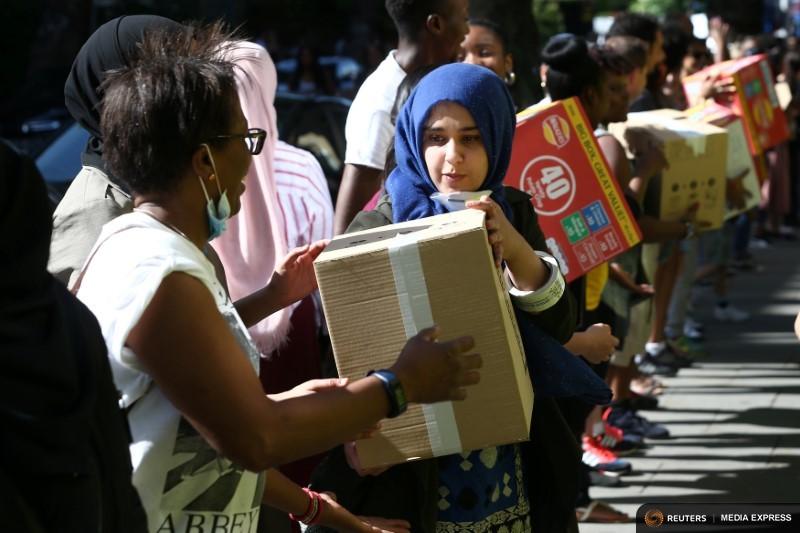 Donations and volunteering
H&F Council provided help and support to Kensington and Chelsea Council in the aftermath of the fire. This included the delivery of the large quantity of food, clothing and toiletries donated for those in need.
However, Kensington and Chelsea tell us they now have enough donated supplies to last for some time, but that any offers of monetary support, or the volunteering of time, would be very welcome. Please do not donate any more items.
If you want to donate money to those affected by the Grenfell Tower fire, the British Red Cross has a page for donations.
They are also coordinating volunteers who are helping with the response – to help call 020 7361 3008.
All people made homeless by the fire are being rehoused in the local area, and no further offers of accommodation are needed.