Hammersmith & Fulham Council threw a birthday party last week for one of its oldest residents, Vera Hulbert. She lives in Cedar Lodge –  a council-run sheltered housing unit in Fulham.
Humour and happiness are the key to longevity – and if 104-year-old Vera Hulbert is anything to go by, the saying has more than an element of truth to it.
The lifetime Fulham resident celebrated her birthday in grand style last week, with a special party arranged by Hammersmith & Fulham Council in her riverside home.
Clocking up 104 years on 16 June, Vera has lived through both world wars and major events like the first moon landing, women receiving the vote, and two Olympic Games held in London.
The seventh of nine siblings, Vera has spent a full and active life in the capital, with many happy days spent with her five brothers and three sisters. 
"There were a lot of us," laughed Vera. "My mum was never lonely."
The avid bowls player played her beloved game in Normand Park, in Lillie Road, and even picked up trophies in the 1980s, by winning a number of tournaments.
Having been an accomplished singer, pianist and member of Fulham Light Operatic Society, Vera is still a keen fan of art and culture. Her apartment in Cedar Lodge – an H&F Council sheltered housing unit in Eternit Walk – is filled with her own paintings and handcrafted tapestries.
Dreamy landscape paintings are hung alongside tapestries of Henry VIII and colourful flower arrangements, while in pride of place is a painting of the Titanic, which sank in 1912, a year before Vera was born.
For Vera, being in Fulham is important – her mum Lilian Martha Greagsby is buried in Fulham Cemetery, while her nephew Derek also lives at Cedar Lodge. 
But it's her two sons, Gerald and Mervyn, who bring the biggest smile to her face. "I love my two boys," said Vera, who was married to Harry, a printer. "I love them both."
Love for her sons, and her strong memories of family time growing up in Fulham keep the smile on Vera's face.
Vera 'remembers a lot', according to her live-in carer Thoko Nhiwatiwa, and still enjoys attending the day centre each week at nearby Olive House. "This is a very big and special day for Vera," adds Thoko.
A very happy 104th birthday Vera!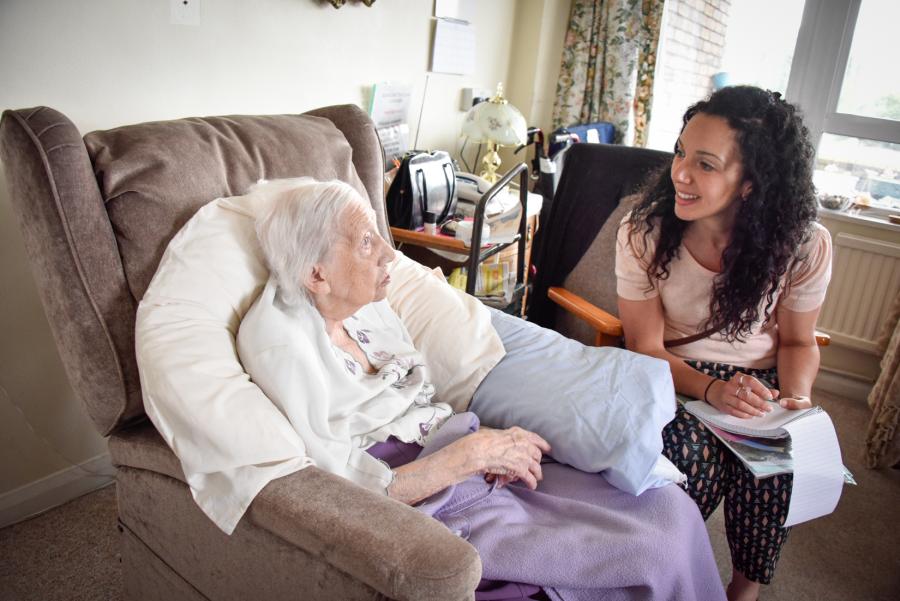 Sheltered housing is specially designed for residents aged over 60 years of age. Most blocks, or schemes, have extra communal facilities not available in general council properties. Sheltered housing is for people still living independently, and all flats are self contained with their own bathrooms and kitchens. 
Most provide a self-service launderette, a communal lounge, communal gardens and a specialist housing officer (also known as a scheme manager), Careline-a 24-hour emergency alarm service and a 'handyman 'service for minor repairs.
Some schemes also have one of some of regular tea and coffee mornings, gardening clubs, activities for residents, residents' parking, video entry phone systems, flats adapted for disability and lifts for access to flats above the ground floor. 
For more details, visit the sheltered housing page.