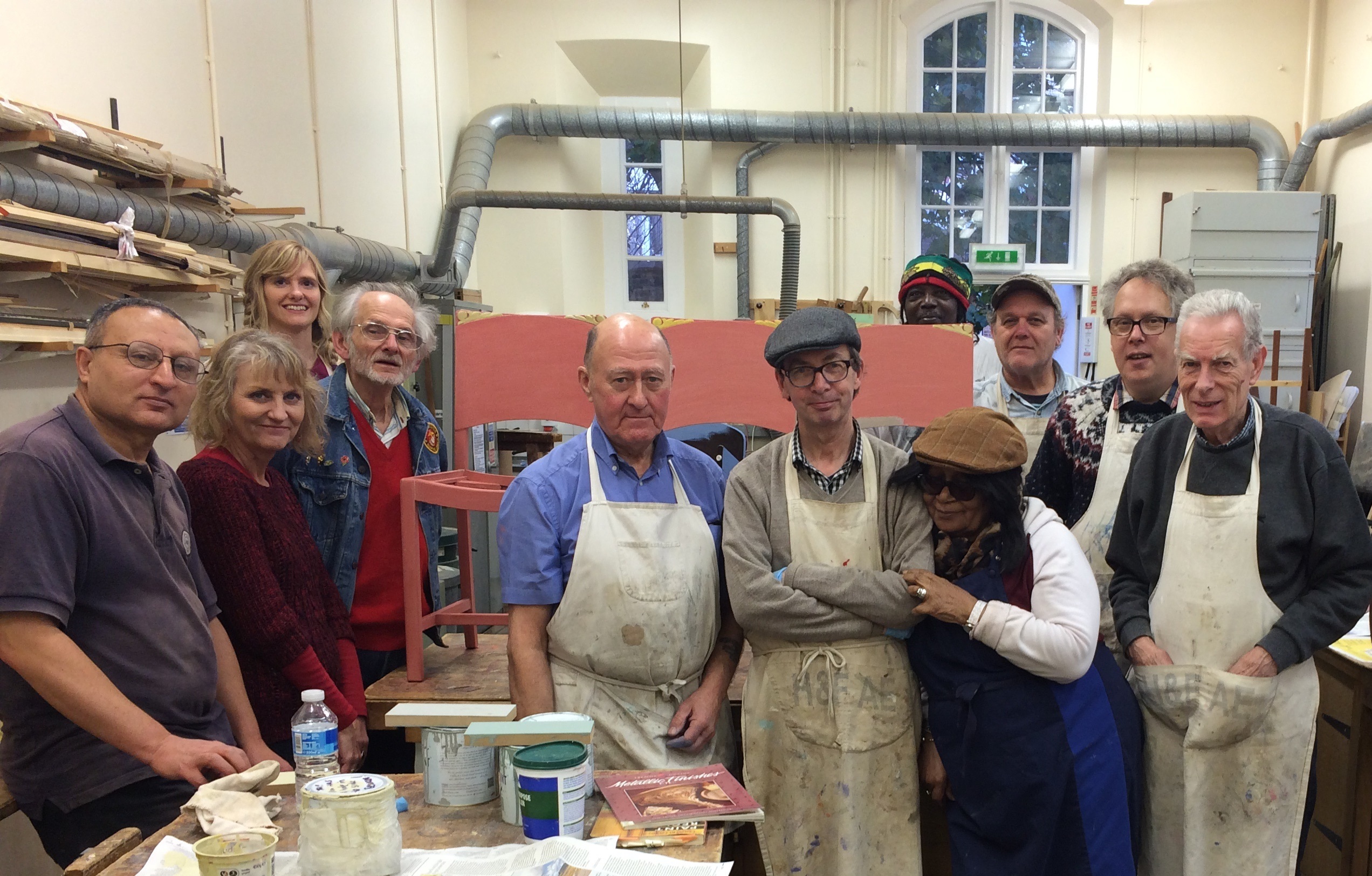 A charity is bringing older men together to transform tired furniture. The participants get to make new friends, learn new skills and build their confidence.
Jenny Bourlet is Upcycling Project Co-ordinator for Age UK Hammersmith & Fulham. She explains the difference the project is making to people's lives.
What do you do?
I organise the weekly furniture upcycling workshops that are aimed at older men who live in H&F. The workshops are fun, free to attend and are an opportunity to meet new people, learn new skills and to develop beautiful pieces of furniture to sell in the Age UK charity shop.
How long have you worked there? What has changed over that time?
The workshops have been running for over a year and a half and during that time we've upcycled everything from tables to wooden horses! It's a really relaxed, flexible and supportive environment. The group has continued to grow and we've been able to experiment and try out new things. There's also a tutor so the group is open to all levels of ability, whether you've worked as a carpenter or not done anything like this since school.
How do you think you've made a difference to people's lives?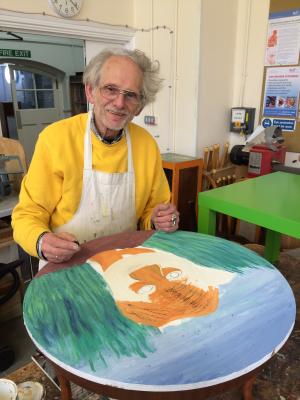 One of the workshop participants, John, said: "I joined the workshop to socialise with people. I'm a very shy person and it's helped me meet lots of new people. 
"Things were quite miserable before I joined as I was on my own. I like that the workshop is really varied and I get to use my skills. It keeps me happy and busy; I would definitely recommend it. There's people from all walks of life.
"It's got me involved in other things too as I now volunteer at Age UK H&F. It's helped me a lot. The atmosphere is excellent and the people are really nice".
Another participant, Barry, said: "I'd wholeheartedly recommend the workshops. I joined hoping I could enjoy a useful outlet for my creative talents as a sign artist. 
"I'd just lost my wife and was having problems being on my own. The workshops have made a big difference to my life. It's friendly, well organised, very useful to the community and I'm doing what I love. It's popular with everyone. You learn and enjoy working with others on a good course."
What advice do you give the people you work with? 
When upcycling the furniture, I encourage the group to experiment, we can always paint over it if it doesn't work out. 
How are you funded?
The project is currently funded by The Daisy Trust, The Morrison's Foundation, The Goldsmith's Company and Hammersmith United Charities, as well as donations from Mitie, Waitrose and GDC Paints. 
What are your plans for the future? 
We are looking to grow the group and continue to help reduce what goes to landfill by upcycling beautiful pieces of furniture. 
Can people get involved to help you? How do people get in touch?
Absolutely, we are always looking for donations of furniture, particularly small wooden items such as dining chairs, coffee tables and bedside cabinets etc. 
The weekly furniture upcycling workshops are aimed at older men who live in the borough of Hammersmith and Fulham. If you'd like more information or would like to join or pop along to take a look, then contact jenny@ageukhf.org.uk or 07961 930 219.