A new tech development that includes creche facilities hopes to further cement White City as the epicentre for innovation in West London.
Huckletree West is set to open this summer in the BBC's former campus in Wood Lane to provide space for up to 450 tech entrepreneurs and freelancers. And the best part is that childcare facilities are available, too.
The 'Google style' facility follows hot on the heels of the Royal College of Art's new schools of humanities and communications in Wood Lane and Imperial College London's Invention Rooms and I-HUB.
"It is our ambition for H&F to be the best place to do business in Europe, which in turn will benefit all our residents," said Cllr Andrew Jones, H&F Cabinet Member for Economic Development and Regeneration.
"Huckletree's arrival is further evidence that key innovators are gravitating toward White City as West London's centre for creative and forward-thinking businesses,"
"This continued growth and investment will give young people in Hammersmith & Fulham the best possible opportunities to get careers in the most innovative industries."
Childcare facilities will be provided by specialist local businesses, giving a further boost to the borough's economy.
And the site is just a stone's throw from the newly-refurbished Hammersmith Park, one of the borough's many award-winning green spaces.
The park includes new playground facilities, an outdoor gym, upgraded tennis courts and astroturf football pitches, which are free for residents.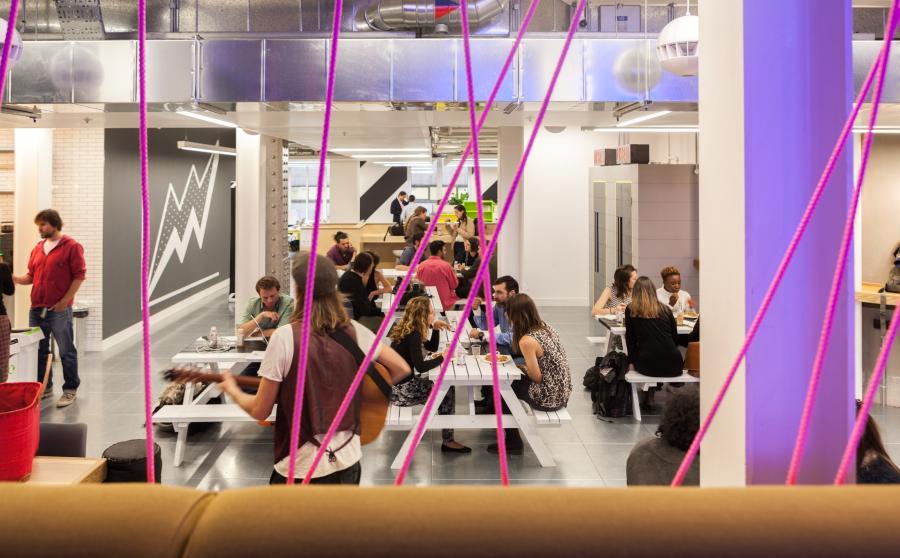 Founders
Huckletree West is co-founded by Gabriela Hersham and Andrew Lynch, who each have a one-year-old child. They say it will allow the growing numbers of young tech workers in west London the chance to spend more time with their children during the week.
Mr Lynch, 29, said: "The millennials are growing up. They want to have the option of taking their child to the park at lunchtime and having some time with them during the day.
"They want to work somewhere they can actually live, somewhere with gym classes, yoga studios, healthy eating restaurants."
The company, backed by six investors, has opened two sites in Clerkenwell and Shoreditch after raising £2.4million, however the founders believe in creating a centralised home for innovation in White City.
"There are a lot of start-ups, tech businesses and venture funds in west London, but they are quite dispersed, there is no one hub," said Ms Hersham.
"We want to make sure West London has its own innovation community."