Finding a tasty lunch in Hammersmith has never been easier – as the winners of this year's I Love Lunch contest have proved with their culinary delights.
Three eateries beat off stiff competition to be crowned the best places to grab a lunchtime bite in the local area.
Almost 2,300 local diners cast their vote in the fifth annual I Love Lunch competition, run by W6 business group HammersmithLondon.
Winning the best pub category for the first time was The Salutation, in King Street, which managed to overthrow the Hammersmith Ram, previously unbeaten in the competition.
The Salutation's general manager Jerry Magloire, who joined the busy pub's team three months ago, said it was a fantastic achievement.
"I'm very proud of the efforts of the front of house and kitchen teams," he said. "We took the competition seriously because we want to put The Salutation on the map in Hammersmith as a place that does really good food."
He added the 'timing was perfect' as the win coincided with the pub's brewery Fuller's launching its own campaign called @FullersKitchen to showcase its food offering.
Fierce competition in the pub category came from popular craft beer specialists the Draft House and The Stonemasons Arms, whose head chef recently won the Fuller's Chef of the Year competition.
In the best café category, the winning eatery was Street Eats, in Shepherds Bush Road.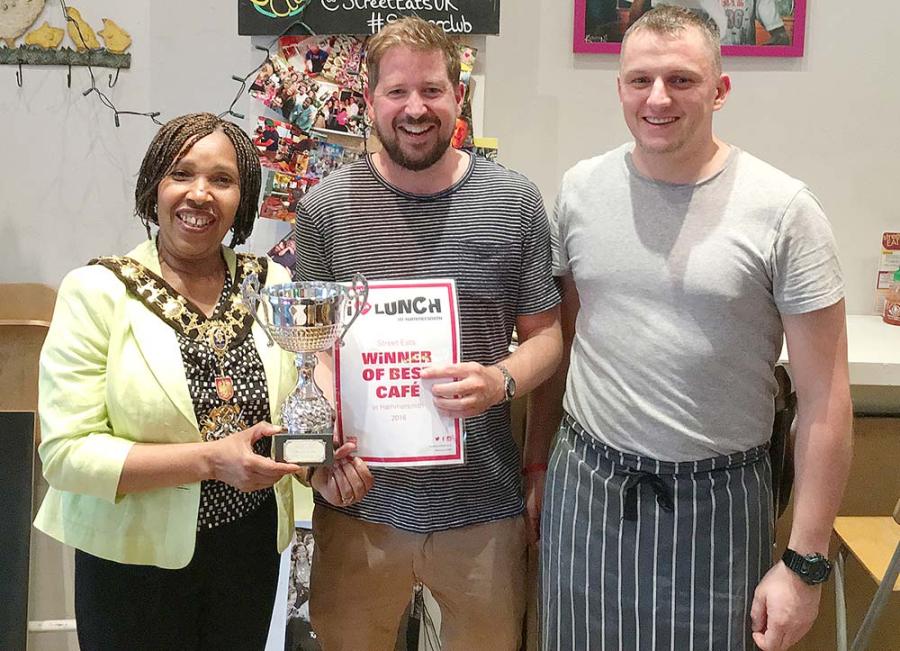 Serving up street food from around the world, owner Michael Charlton set up his stall during the Thursday market in Lyric Square around five years ago, before expanding into the café in 2012.
Having worked around the world, he was inspired by Sri Lankan street food but now serves up dishes ranging from healthy salads and smoothies to burgers and tacos.
The most popular dish is the Sri Lankan stuffed roti, according to Michael, which includes stir fried vegetables and free-range egg with fresh curry leaves, served in a homemade roti wrap.
"I'm chuffed to bits as all our regulars voted for us," said Michael, who has worked with restaurateurs including Rick Stein and Terence Conran.
"It has taken time to build it up and get busy but each year has been better and we really feel part of the community. We're over the moon to win the award."
The best restaurant category was won by Wagamama, which took on three-time winners Villagio to win by a single vote.
All three winners will be presented with trophies and certificates by the Mayor of Hammersmith & Fulham Mercy Umeh, and will be nominated for the West London Business Awards, to be held later this year.