A ground-breaking urban regeneration scheme in White City that also helps prevent localised flooding has received its second award in a month.
Bridget Joyce Square was given the Nancye Goulden Award at the Hammersmith Society's Environment Awards during its AGM last week.
Presenting the project, the result of close working between Hammersmith & Fulham Council and local residents, judges praised the 'enlightened' approach to optimise the development opportunity.
"We appreciated how those involved in the scheme seized the opportunity to make something better of what had been just an ordinary street," said Hammersmith Society committee member, Richard Winterton, who presented the awards.
"They have turned it into an attractive pedestrian area that will be of real benefit to the community, while at the same time observing the environmental requirements that will help prevent localised flooding in the future.
"It is a great example of how to develop a project that both meets a high environmental standard while providing a real asset to the community."
The society further praised the scheme for creating a place where the space was optimised for people rather than cars.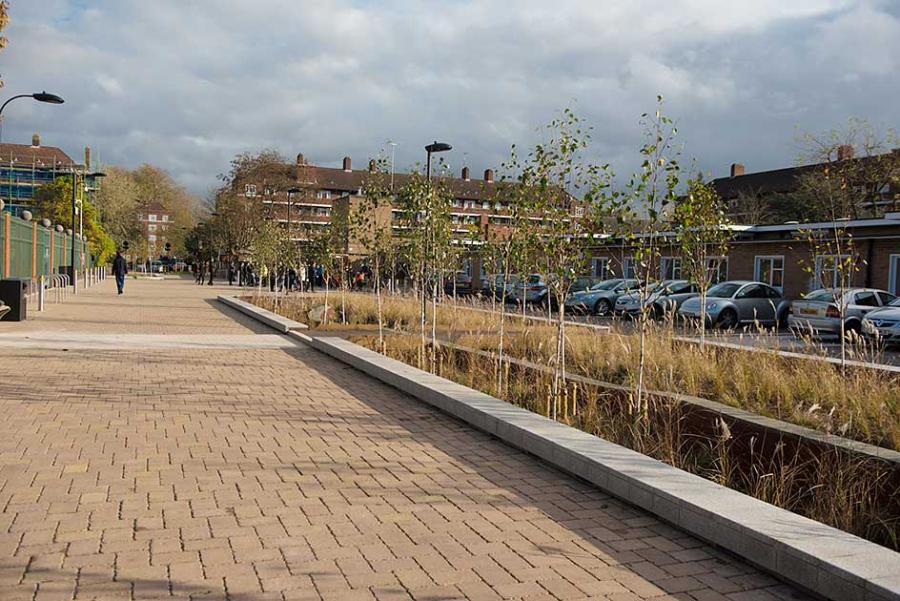 "This recognition from a local organisation is fantastic and shows the real value of us working alongside residents to make changes they want, while being innovative with design," said Cllr Wesley Harcourt, H&F Cabinet Member for Environment, Transport and Residents' Services.
The idea came about initially from H&F Council exploring with residents how to best revitalise the space while addressing their needs.
This was developed to include a sustainable urban drainage system (SuDS) to tackle localised flooding, by using permeable paving and planted water retention basins that also boost biodiversity.
Earlier this month, Bridget Joyce Square, which opened last November, won the Engineering Project with best Community Impact award at the Institution of Civil Engineers (ICE) London Civil Engineering Awards 2016.