A hot new Fulham business will set out its stall at the traffic-free Christmas market in North End Road on Saturday.
Mangal Express – the new venture from Gursel Gurgur, owner of three Best Mangal restaurants in Fulham – builds on the family-owned firm's success by offering a dynamic new online delivery service.
Gursel will show off his traditional grilled Ottoman delights at the Hammersmith & Fulham Council-run market on Saturday (28 November) and is hoping locals jump at the chance to have the already-loved Best Mangal food delivered.
"I often source fresh fruit and produce for my restaurants from North End Road market," says Gursel, who has starred at the previous two seasonal Fulham markets. "So I know the market and some of its traders since we opened our doors. It's great that the market is finally being supported properly."
The Christmas market on Saturday will build on the success of last year's festive market and a summer market in June that attracted 15,000 visitors. They are being organised by the council and the North End Road Action Group as part of their commitment to revive North End Road. Another Christmas market will be held on Saturday, 12 December.
On both days, alongside the regular market, the road will be filled with stalls selling a wide range of Christmas presents and festive food and drink. There will also be street entertainers, carol singers, live music, a funfair and more.
The origins
It was in 1996 that Gursel's father established the first Best Mangal at 104 North End Road, with kebabs at the top of the menu, and a range of Turkish and Mediterranean dishes after that.
"They say success happens overnight, and it's true. Suddenly we were really busy," says Gursel. "It was one particularly Wednesday! We were overwhelmed with customers, and there was no looking back."
There are now three restaurants and the home delivery service. "I grew up here," he adds, gazing around the walls of his Fulham Broadway restaurant with affection. "I've given everything to this business. I spend 12 hours a day here, seven days a week. I spend more time here than I do at home. Everything I am now is from here!"
Gursel spent two months training his vegetable buyer to 'buy with love', and the result is not only gloriously red tomatoes, but ones packed with flavour.
"It's not just about buying a case of tomatoes. We follow the same philosophy as any going to North End Road market and hand-picking them."
The West Ken and Fulham area is Gursel's stamping ground. He and the family (he has a seven-year-old daughter and a two-year-old son) live just off Fulham Palace Road, and he is very community-minded.
"I'm very spiritual in that sense," he said. "I'm optimistic. The influx of money into the area is to be welcomed, but I worry about the effect on existing small retailers if everything is diverted into new developments. You need local shops, and there are still empty premises in North End Road."
To your door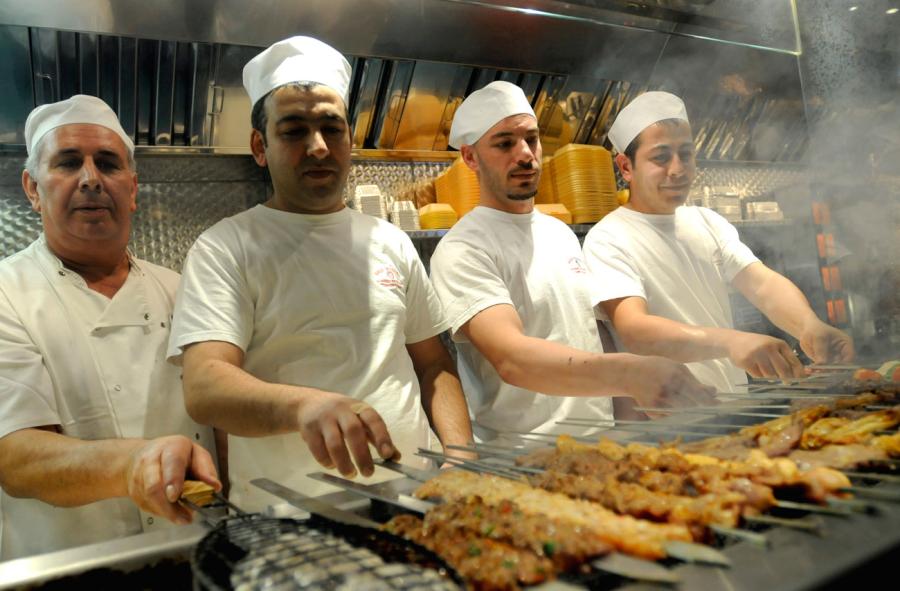 Gursel's new venture is sizzling. In the past few months he has seen a huge growth in online orders from visitors in local serviced apartments. But Mangal Express is also proving popular with local businesses with hungry evening shift workers, such as Universal Music and Talk Talk, who are ordering by the bike-full.
And it's not often you see the boss show up on a scooter with your hot food. But that's part of the job for Gursel. "When we are doing 100 deliveries a night, sometimes I have to jump on a bike and go," he says with a smile. "But that connection with my customers is important. It's the same as being part of the history of Fulham, West Kensington and the local community here.
"That connection gives me more of a kick than just being a successful restaurant."
For more details about the H&F Council Christmas markets in North End Road, visit www.lbhf.gov.uk/ner.
For more details on Mangal Express, visit www.mangalexpress.com.