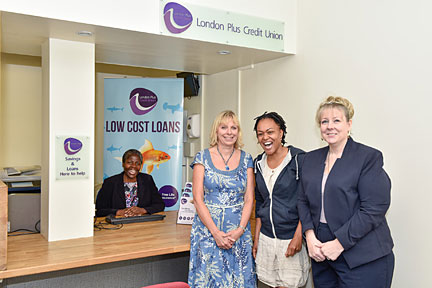 H&F Council has launched a credit union service in the heart of the White City Estate.
London Plus Credit Union will open its new office on Thursday (9 July) in New Zealand Way at the White City North Area housing office. The not-for-profit organisation has been operating in Fulham's North End Road for nearly seven years and has helped thousands of council tenants access fair finance and plan for their future.
"We believe that everyone should have choice when making financial decisions," said Cllr Lisa Homan, H&F Council's Cabinet Member for Housing. "By working in partnership with London Plus Credit Union our residents will have better ways to borrow, save and budget."
Cheryl Gale, Chief Executive of London Plus Credit Union, said: "We are delighted that H&F Council have invested in the launch of London Plus Credit Union service in the north of the borough.
"Offering local residents face to face access to affordable loans and reducing the dependence of high cost credit is an integral element of the work we do in contributing to a better local economy.
"It is essential that local residents are given financial support that will help them make good financial choices and London Plus Credit Union has both the experience and commitment to deliver this service."
Residents are delighted with the new White City branch. Ana Dos Santos opened an account for her son Mario Sousa, aged 13, at the branch last week.
Ana, who lives in White City, said: "It's brilliant. The rates are much better and we don't have to go down to Fulham now.
"They're working for the benefit of the community which is a good thing."
Better borrowing
The London Plus Credit Union offers fair and affordable loans to all residents of Hammersmith & Fulham.
Depending on your circumstances, residents can borrow from £50 to several thousand pounds, at much fairer rates of interest than a doorstep, payday or high cost lender.
For example, a loan of £500 over six months would cost residents just £554 to repay with an instant loan or £536 to repay with a Save as you borrow loan. A typical doorstep lender would charge £910 – or a well-known payday lender would charge triple this.
Loan interest is calculated on a reducing balance and there are no penalties for early repayment. All loans are insured and offered without the requirement to save first.
Better savings
The credit union encourages residents to save regularly, by giving all members a saving account but you can save for specific reasons such as Christmas, holidays or just for a rainy day. This can be done knowing your money is protected by the Financial Services Compensation Scheme (FSCS) – just like your bank or building society.
Instead of interest, residents will receive a dividend based on the profit of the credit union. They have a targeted minimum return of 1% – a very competitive rate on the high street for an instant access savings account.
Residents will also be able to access their accounts online, by phone or by visiting the White City or Fulham offices.
Join now
For more details, visit: www.londonpluscu.co.uk or call 020 7471 2620 or email: info@londonpluscu.co.uk.