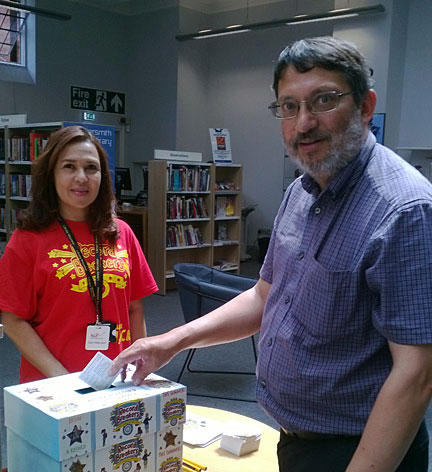 Young book lovers made pledges to read more as part of a world record attempt marking the start of a summer of book-related fun.
The 'Record Breakers' challenge took place at Hammersmith and Fulham libraries on Saturday 11 July and Sunday 12 July and launched the Summer Reading Challenge - a national campaign to boost children's reading helped by a host of events and challenges in libraries. Participants attempted to break the world record for the greatest number of people making a pledge, or promise related to reading.
At the weekend, visitors to the libraries made a total of fifty pledges, with children pledging to read more books and adults pledging to encourage them. And young volunteers at the libraries also pledged to help participants achieve their goals.
"Reading is a valuable experience for children and adults, providing learning and understanding of the English language, but also providing escapism and fun," said Cllr Wesley Harcourt, H&F Council's Cabinet Member for Environment, Transport and Residents' Services.
"I enjoy reading so was only too happy to join with the children and other adults and make a pledge myself. The total number of pledges nationally is still being counted by the Reading Agency, who organised this, so we hope the efforts of everyone in H&F will help to get a world record number of people promising to read."
Last year, more than 725 children in H&F signed up, with almost 400 of those completing the challenge of reading six books over the summer.
Those who complete this year's challenge will receive a medal, a certificate and will also receive incentives and other rewards to help them achieve their goal.
A host of other fun activities will be taking place in H&F's libraries over the summer, including events for children, such as Sea Monsters at Hammersmith Library on Monday 27 July and craft clubs at Fulham and Shepherds Bush libraries. There will also be activities for older readers, including coffee mornings at Askew Road and Fulham libraries, and Poet's Corner, for budding writers at Askew Road Library on Thursday evenings.