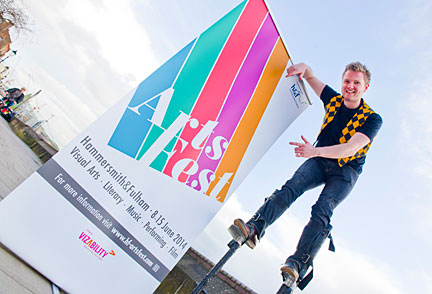 How can we make Hammersmith & Fulham a more creative and exciting place to live in and visit? How can we develop new opportunities for residents to create art? And how can we encourage and enable all residents to access the arts, particularly people who have not done so before?
Come and join the discussion on Tuesday, March 3 as the Economic Regeneration, Housing and the Arts Policy and Accountability Committee meets in Hammersmith Town Hall.
"We hope that people will want to come and share ideas on how residents, arts organisations and the council can work together to create a borough with lots of art for everyone," said committee chair, Cllr Ben Coleman. "We want to develop policy together with residents, not just do things to them, so everyone is welcome."
Council support for the arts
Hammersmith & Fulham has had always a world-class arts scene, with venues large and small from the Bush Hall to the Barons Court Theatre. And H&F council has played its part, part-funding the Lyric Theatre's ambitious £14m revamp and boosting the Bush Theatre as it settles into its new home in Shepherds Bush Library.
Last June, a group of residents held the inaugural H&F Arts Fest in partnership with local arts organisations and the council. The festival, which is planned again for this June, included works of visual art, performing art, film and music.
Other local groups include The Society of Fulham Artists and Potters, the Artists at Home scheme and The Association for Cultural Advancement through Visual Art. All offer ways for artists to experiment, display and develop their skills across the borough.
Now the council wants to hear from you to help expand, deepen and open up the local arts scene for residents.
The meeting starts at 7pm and will be held in the Small Hall in Hammersmith Town Hall.