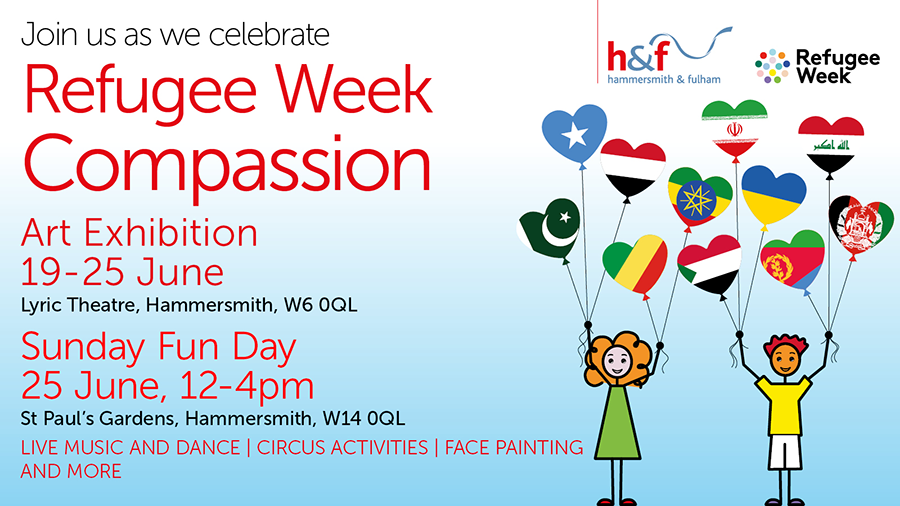 On the eve of Refugee Week we spoke to Fawzia Amini about fleeing Afghanistan and her family's new life in H&F. You can read it here.
Hammersmith & Fulham Council is celebrating Refugee Week with seven days of free, in-person events.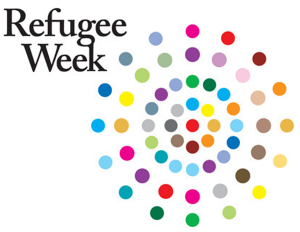 The festival, which runs from Monday 19 June to Sunday 25 June, is inspired by the theme 'compassion'. All events are free and open to everyone.
There will be an art exhibition of refugee work, as well as dance, food, music, face painting and more. Check out our week of events below.
Cllr Rebecca Harvey, H&F Cabinet Member for Social Inclusion and Community Safety, said: "In H&F, we want a better world for refugees, where they are welcomed by everyone, respected and treated fairly.
"Refugee Week highlights how much asylum seekers and refugees contribute to our daily lives and reconfirms our commitment to be a haven for those fleeing persecution, violence, and war. It's also an excellent opportunity to thank and recognise them for their contributions to enriching our lives."
---
Events
Sunday Fun Day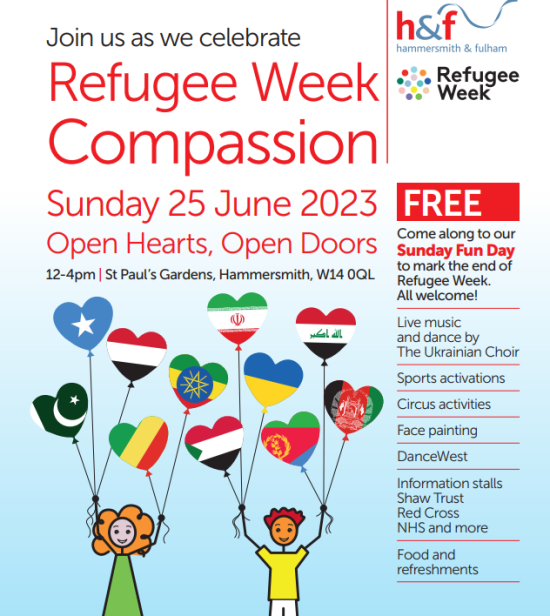 Sunday 25 June
12pm-4pm
St Paul's Gardens, Hammersmith
Come and join us at St Paul's Gardens as we close the celebrations with a fun day for all.
There's free entertainment for kids and adults alike to enjoy:
There will also be information stalls offering advice on employment, immigration, courses, and other forms of support.
All are welcome!
See all the pictures from the event on our Flickr photo gallery.
---
Art exhibition in celebration of Refugee Week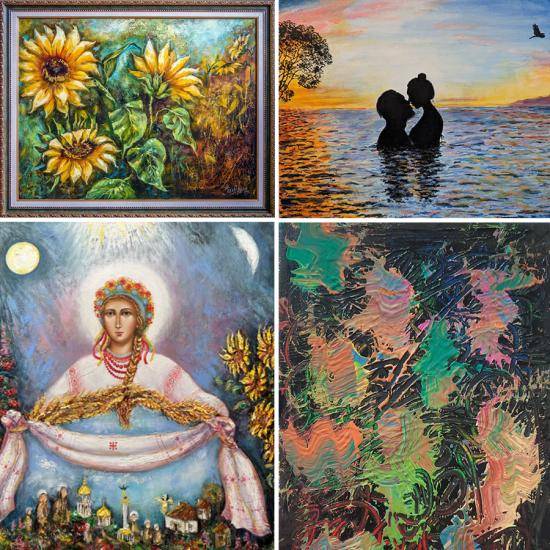 19-25 June
Lyric Hammersmith theatre
Like migration, art is as old as humanity. It transcends language and cultural barriers, opening doors for sharing and expression.
In celebration of Refugee Week, we are hosting an art exhibition at the Lyric Theatre showcasing work by four local talented refugees.
Drawing on their experiences and emotions, the artists have created work that invites audiences to challenge preconceived notions of refugees.
This is a great opportunity to learn more about their journey.
The exhibition is running from Monday 19 to Sunday 25 June and is free for people to view during the Lyric's opening hours.
VIDEO: Watch artist Olena Prekrasna speaking about her art
Watch our Olena Prekrasna video on YouTube.
---
Chelsea FC stadium guided tours
H&F is working with Chelsea Football Club to provide free guided tours to refugees and asylum seekers. Find out more and apply by calling 0800 012 1577 or email ukrs@lbhf.gov.uk
---
Free tickets to London Zoo
H&F is providing refugees and asylum seekers with free tickets to London Zoo. Find out more and apply by calling 0800 012 1577 or email ukrs@lbhf.gov.uk
---