It's showtime for White City resident Maryam Garad, 23, and Shepherds Bush resident Kane Feagan, 26, as they prepare for the first night of the Bush Theatre's upcoming show As We Face The Sun.
"It's about a group of friends who are friends when they're 16," Kane describes the coming-of-age drama. "Then something terrible happens."
They come together, every year, to remember the friend they lost. Fast forward to 2023, when everyone has grown and everything has changed. "It's about what happens when the ritual breaks and what truths come to the surface," says Maryam.
Kane adds: "It's really poetic, it's really fun, and it's also really sad. If you want a roller-coaster ride, come and watch!"
Running from Tuesday 22 August to Saturday 26 August, tickets are available on a pay-what-you-decide basis via the Bush Theatre website.
VIDEO: Meet the Bush Young Company
Watch the Bush Young Company video on YouTube.
Bush Young Company
Actors Kane and Maryam are part of the 18-25 cohort of the Bush Young Company – a theatre training programme free to local creatives.
Supported by H&F Council, it reflects the Shepherds Bush theatre's commitment to local life and developing the next generation of artists.
"You get to know each other, you play games, you do workshops, you work with casting directors," says Kane. "Everyone in this building is rooting for you, and you really feel that. It's my favourite theatre."
"This process has allowed me to actually become a professional actor and writer," Maryam adds. "In 2021, I honestly didn't know anything about this industry. And two years later, I really feel like I'm getting the ball rolling. It's so dramatic, but it's changed my life."
Stars of the future
Both Young Companies – one for 14-17 year-olds, and one for 18-25 year-olds – are led by Young Company Coordinator Katie Greenall and the Bush Theatre's Artistic Director Lynette Linton.
"Our groups are made up of a whole host of artists," Katie explained, "and the brilliant thing about the programme is that they're working together and build relationships across different disciplines."
The theatre first opened its doors to a group of local young people in 2020, which would go on to form the first generation of the 14-17 Young Company. Its sister programme for 18-25 year-olds followed in 2021.
"Our work is trying to shed light on the stories of the artists that surround us here in Shepherds Bush," Katie said. Named Theatre of the Year 2023, the Bush houses new plays by writers from around the world.
Some of the young people have started to work with new agents or have gotten into drama schools off the back of last year's show. Others have gone off to star in shows abroad.
"It's a long-term investment into the young people of west London," Katie said. "Keep an eye on these stars of the future."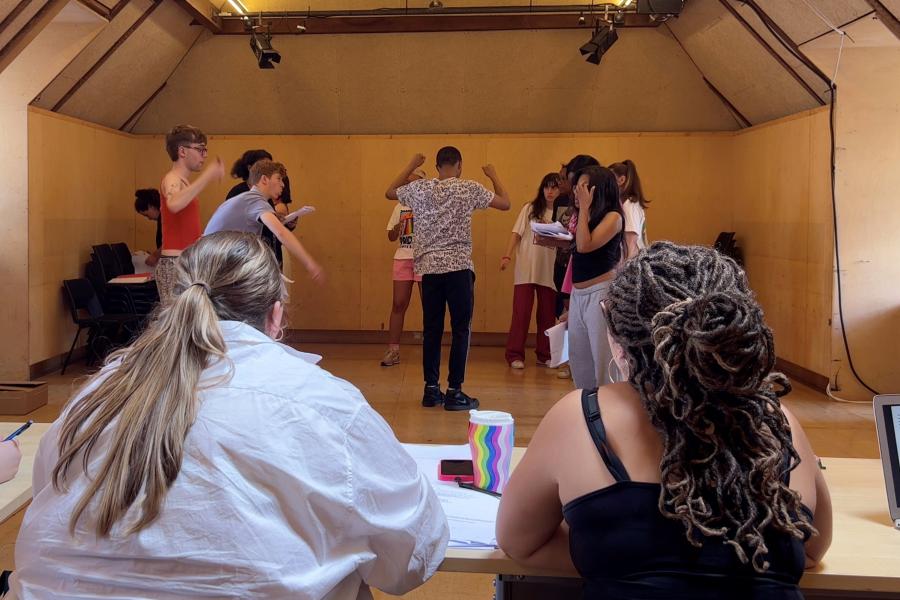 Get involved
"We're always looking to widening the Bush family," said Katie. "We're looking for actors, but also for theatre makers, producers, directors, writers.
Those interested in joining the 14-17 cohort of the Young Company from autumn 2023 can email community@bushtheatre.co.uk to find out more.
Want to read more news stories like this? Subscribe to our weekly e-news bulletin.