Two local Afghan refugees have earned multiple GCSEs – less than two years after they moved to the UK.
Sisters Amana Amini, 19, and Wahida Amini, 18, moved to H&F in November 2021 after fleeing Afghanistan with their parents and two younger sisters when the Taliban seized control earlier that year.
The council helped find the sisters places at schools in H&F with Amana and Wahida studying for their Maths, English, Physics, Biology and Chemistry GCSE exams at William Morris Sixth Form in St Dunstan's Road, Hammersmith.
"I want to congratulate Amana and Wahida on their exam success and I look forward to seeing what they will go on to achieve in the future," said Cllr Rebecca Harvey, H&F Cabinet Member for Social Inclusion and Community Safety.
"The restrictions the Taliban have placed on women in Afghanistan are a violation of their human rights. I'm so pleased that we have been able to offer safety, security and school places to Amana and Wahida, their family and peers."
VIDEO: Interview with Amana Amini
Watch Amana's interview on YouTube.
Restrictions
The pair are following in their mother's footsteps with hopes of going to university in the future. Mum, Fawzia Amini, is a leading Afghan women's rights judge who is now working at a London law firm.
Both Amana and Wahida want to join the world of medicine – Wahida wants to be a dentist and Amana a surgeon. But their accomplishments come at a time when the sisters' peers in Afghanistan are facing further restrictions.
When the Taliban took control they barred most teenage girls from attending secondary school. This is on top of the UNICEF estimate that 3.7 million children, 60 per cent being girls, are not in school in Afghanistan.
Universities have also been closed to female students and women and girls have been barred from parks, gyms and swimming pools.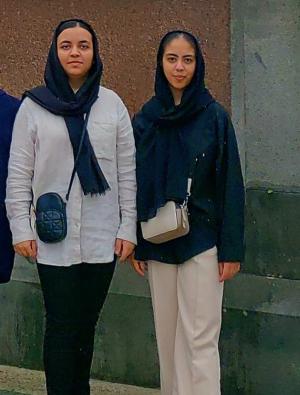 Future dreams
The dedicated pair are working to make their dreams come true and have each completed 30 hours of volunteering at Hammersmith Hospital, White City.
"Back in my country there's few female doctors," Amana explained. "It's always a big problem for families because there aren't enough female doctors or nurses. I want to be one of them and help people and treat them because we are in a country of war."
Wahida will be continuing her studies in the Sixth Form at William Morris when the new school year starts in September, and Amana is off to complete a pre-university course.
"I am very happy and proud that I did my GCSEs at William Morris. When I came here I didn't know much English, but they took me step by step and helped me a lot. I'm very proud," Amana added.
Afghan support
Since their arrival, H&F Council has supported the Amini family, and more than 200 other Afghan refugees.
We recently found a permanent home for the pair and their family in H&F. And Fawzia and her husband Fahim have made the most of our adult education offerings, taking up English lessons at H&F's Macbeth Centre in Hammersmith.
Fawzia believes the classes helped her find a new job in London.
Want to read more news stories like this? Subscribe to our weekly e-news bulletin.