A community gardening scheme promoting friendship across the generations has been applauded by experts at Imperial College London.
The 'Adopt a Garden' project – a partnership between local charities Fulham Good Neighbours and Nubian Life – was celebrated with an award at the recent Healthy City Design conference.
Hundreds of H&F's residents have benefited from the gardening project since its launch in 2019 – with the positive community results mapped by a team of researchers from Imperial College London.
Hammersmith & Fulham Council partnered with Imperial College London to boost local bio-tech, digital and creative businesses as part of our pioneering Industrial Strategy.
Gardening works
Imperial's research found that taking part in the gardening project boosted physical and mental wellbeing, as well as increasing environmental knowledge.
"It has been amazing to see the success of the project," explained Jamie Hilton, director at the Fulham Good Neighbours charity, which is based in Rosaline Road.
"The idea now is to share our results so that other small community projects can see what works in improving community connections and intergenerational relationships."
Generation game
The scheme, run by Fulham Good Neighbours, matches elderly residents or those unable to tend their gardens with keen gardeners who don't have a green space of their own.
Regular sessions are a chance for friendships to flourish alongside the plants and flowers, with residents bonding over a shared horticultural connection, or learning about each other's interests from football to baking, Jamie added.
Volunteers help complete tasks from pruning and planting to ongoing maintenance, while more complicated jobs are taken on by the charity's Royal Horticultural Society-trained gardening co-ordinator.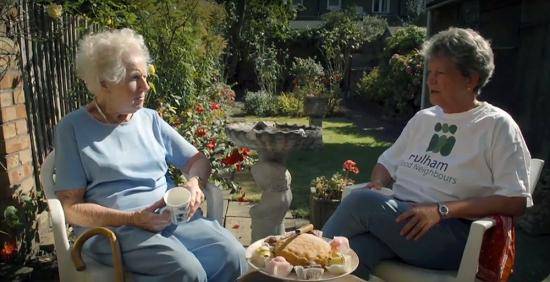 Benefit of elders
While Nubian Life Resource Centre in Ellerslie Road, White City, allows families to connect with the area's elders and learn about gardening at the charity's Josiah Braithwaite Community Garden.
"The garden has been of benefit to families, particularly those living in overcrowded or temporary accommodation," said Jazz Browne, chief executive of the Nubian Life Resource Centre.
"Having a space where they can do outdoor activities with children and for the parents to have access to a space where they can just breathe."
Gardening workshops have expanded local families' environmental knowledge, while the garden has been used to grow specialist herbs and vegetables used for cooking dishes from a variety of cultures.
Everyone wins
Researchers from Imperial College London's Centre for Environmental Policy found the project reduced loneliness in older people, fostered gardening skills in children, and generated positive emotions and improved physical wellbeing through activity and diet for participants.
The university's research student Yi Zhang and senior fellow Dr Tilly Collins presented their paper Expanding Access to Urban Gardening: The contribution of community gardens and adoption/sharing schemes at the Healthy City Design Congress in London and at the Urban Transitions Global Summit in Barcelona this autumn.
Find out more  on the Fulham Good Neighbours website and the Josiah Braithwaite Community Garden website.
Want to read more news stories like this? Subscribe to our weekly e-news bulletin.