You're invited to treat your wardrobe to a 'green' makeover – without having to spend a single penny.
Supported by Hammersmith & Fulham Council, the new second-hand fashion fair will run at Livat Hammersmith in King Street from 11am to 4pm on Saturday (27 August).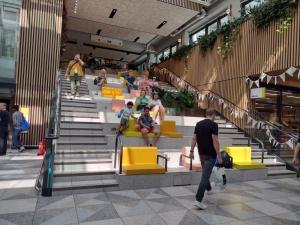 "We're determined to help residents save money and make more sustainable choices as we work to make H&F a greener and kinder borough," said Cllr Wesley Harcourt, H&F Cabinet Member for Climate Change & Ecology.
"Not only is this a great opportunity to give new life to unwanted clothes and upgrade your wardrobe cheaply; it also helps us support those most affected by the Cost-of-Living Crisis. Please join us."
The pop-up fair will be take place at the events space inside the King Street shopping centre, located by the stairs between the Ikea cafe and the Library of Things.
Leave your wallet at home
Designed to be kind to planet and wallet, no cash or card payments will be required on the day.
To join in on the swap fun, simply bring your old school, work or leisure clothes along and start trading.
From outgrown toddler wear to outrageous Hawaiian shirts and controversial bootcut jeans, vintage lovers can donate up to six pieces of clothing. Each donated item will gift them one 'swapped' item in return.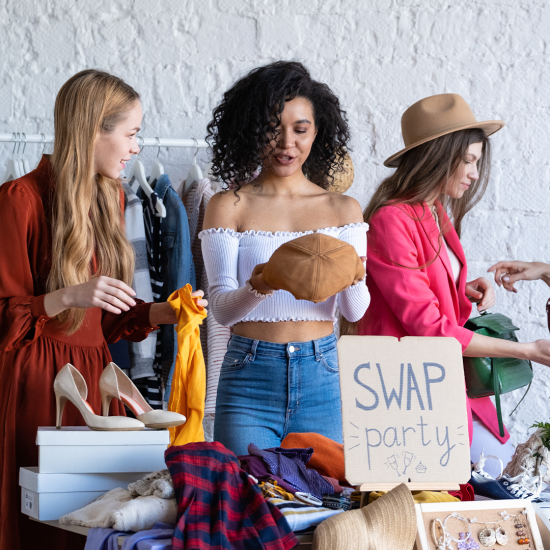 All donations should be clean and in wearable condition.
To get the swap going, additional wardrobe essentials are kindly provided by the Shepherds Bush Families Project and Children's Centre.
"We have donations coming in throughout the year, so it made perfect sense for us to help with the event," said 30-year-old Deputy Manager Beatrice Panduru.
The Shepherds Bush based charity has been supporting local residents with housing needs for more than 30 years.
Beatrice hopes to see lots of residents at the event.
"Apart from helping the local community, donating second-hand clothes can have a big environmental impact as well. It's an amazing event; we're very excited to be a part of it."
Any donations left at the end of the day will be handed back to the Shepherds Bush charity to benefit local families in need.
Make second hand your first choice
To help encourage reuse, H&F is working hand in hand with local community groups like Shepherds Bush Families so that little is thrown away.
"One of the things we do to support the local community are our regular give-aways," said Beatrice. "We invite our families to come down to the centre, look through what's available and collect anything they need."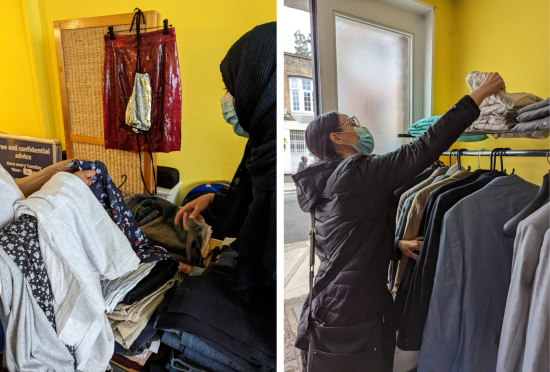 The local charity relies on donations from local residents and businesses.
"For our most recent give-away in July, we received an interesting batch from local company Prop Up. They had a lot of clothes to give from one of their last movie productions. That was pretty special."
A third of the average resident's carbon footprint stems from the things we buy and use. This includes our clothes and fashion choices.
According to the BBC, fast fashion is a huge driver for climate change.
Mass-producing clothes uses a wasteful amount of natural resources, including oil and water, and is responsible for eight to 10 per cent of all global greenhouse emissions.
Donating and shopping second-hand can help you declutter, save your pre-loved items from landfill and make real a difference for local people. It's a win-win-win situation.
Can you help?
Since the beginning of the Cost-of-Living Crisis, more and more families have turned to the centre for help.
"We've definitely had a lot more demand in the last year," Beatrice confirms. "Food has been high in demand, but also other items. Especially essential things like school uniforms."
The charity works in partnership with local foodbanks like the Nourish Hub on Edward Woods Estate, and "make referrals whenever necessary", Beatrice says, adding:
"It's all about trying to support families in the best possible way."
Beatrice and her team can count on kind donations from City Harvest and local shops from neighbourhood shopping centre 'West 12'. Additional donations from the community are always welcome.
At the moment, some of the items most urgently needed include:
gluten-free pasta, flour and snacks
shower gel and soap
shampoo and conditioner
toothpaste
nappies in sizes 4, 5 and 6
girls grey school uniform for ages 10 and 11; and
winter clothing and footwear for all ages.
If you require support, please email info@sbfp.org or call 020 8749 2371.
Or visit our Cost-of-Living Crisis webpage for guidance and advice.
Want to read more news stories like this? Subscribe to our weekly e-news bulletin.