All 73 school-aged children and young people evacuated from Afghanistan and living in local temporary accommodation have been welcomed into schools across the borough.
Hammersmith & Fulham Council stepped in to help with housing and school places when approached by the Government as part of the Afghan Citizen's Resettlement Scheme.
After the Taliban seized control of Afghanistan, the scheme flew hundreds of families out of the country to safety in the UK. H&F was asked to care for these families – and now we're helping to find them permanent homes.
"Ensuring all refugees have a welcoming and suitable school place is always a priority for us, especially as we continue to support these new young residents settle into the borough," said Cllr Sanderson, H&F Cabinet Member for Children and Education.
If you're a landlord in H&F and can help provide a permanent home for an Afghan refugee family, please email: propertytolet@lbhf.gov.uk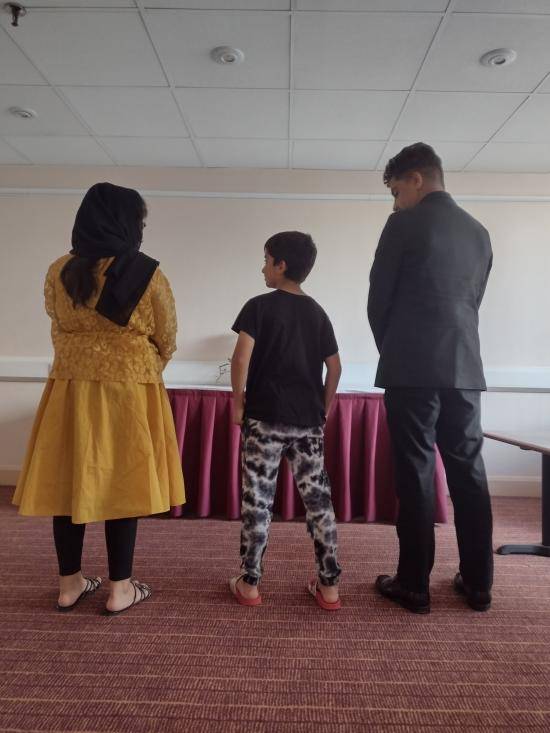 Access to education
We value accessible, inclusive education taught in a safe environment for all young people - an experience that not all these Afghan pupils would have had previously, especially the girls.
Of the school aged Afghan refugees, nine young children are now attending nursery and pre-school in H&F, and a further 20 children are attending primary school. One of these children has special needs and had never been able to go to school before moving to England.
In addition, 29 young people, aged 11-16, are currently attending secondary school in the borough. Prior to arriving in H&F, five of these girls had not been allowed to attend school and are excited to be able to finally go.
"Access to education should be a right for children throughout the world. Here at H&F, we fight for that right by welcoming all and treating everyone equally. No matter your country of birth, your gender, sexual orientation or socio-economic background everyone in H&F is entitled to and will receive an education," added Cllr Sanderson.
Afghan cricket success
Usmanghani Amin, 13 years old and a keen cricketer, is in Year 9. He's one of six Afghan boys living in the hotel to have been selected by Middlesex County Cricket Club for ten weeks of professional cricket coaching.
Usmanghani, who has been at his new school for almost six months, says his favourite subject is English "because I know I have to learn it in order to be able to live here and do things".
For Usmanghani, school in England is different to school back home "because I feel that the lessons here are much better than what it is in Afghanistan. The system of teaching and what we are learning is better".
Zainab Jafari, 16, also enjoys English but knows that "after school I'd like to be a doctor". For her, school in H&F is different to Afghanistan "because I can study here in peace, and I know that I can continue my study in this country".
Favourite lessons
Ahmand Majutaba Mokhlis, 11, is in Year 7 and agrees that English is one of his favourite subjects "because I like to read", but his favourite day of the week is sports day because he "wants to be a footballer once I've left school".
His sister, Parwana, is 13 years old and is also a fan of sport. Her favourite day of the week is Thursday "because we have PE and I like gymnastics. After school, first I want to go to university and second I want to be a dentist".
For Bibi Amini, 11 years old and in Year 7, the biggest difference between school in England and school in Afghanistan are their lessons. "In Afghanistan we don't have practical classes but here we do, and I enjoy the practical things. My favourite subject is dance because it is practical."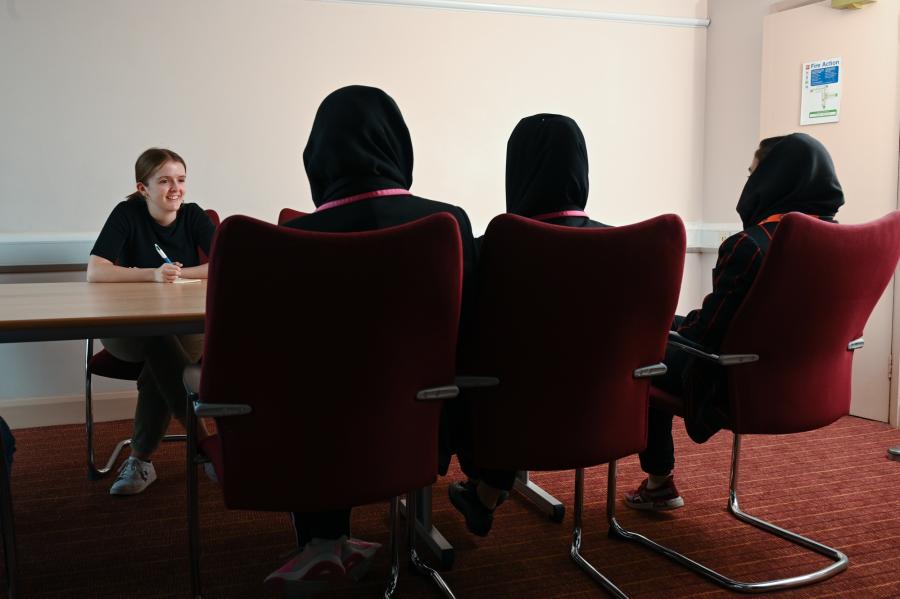 Places for neighbours
All children who arrived in H&F during the summer of 2021, aged 16 or below, were in school by the October half term. Through careful planning H&F was also able to find school places for 28 evacuees living in temporary accommodation from Westminster and Kensington and Chelsea.
Shirzad Ahmadzai, 14, is in Year 10 at school and has been going for almost seven months. "I was very excited to start school, I get there by public bus and travel with a friend from the hotel and a British friend," he said.
Every day, as part of his journey, he takes his seven sisters aged 12-17 to school and makes sure they get back to the hotel safely each afternoon.
"I enjoy school and my favourite subject is maths because it'll help me become a businessman," said Shirzad. However, his favourite time of day is break time "because I study hard and need the break!".
"School is really different in Afghanistan – because in Afghanistan teachers don't come into school some weeks. But here, they come in every day. They also have computers here."
Support for young adults
Placements have also been found for 11 Sixth Form students and four college students.
"In Afghanistan the college teacher is no good and we have no computer," said Hamza Yousefi, 16, who is in his first year of sixth form and studying IT and accounting. "Here we have a computer, and I'm going to go to university after college to study IT".
Husna Ebadi, 15 and in Year 9 at school, also has plans to attend university. "After school I want to study nursing," she says. Although she admitted that at the moment her favourite subject was PE, she said she liked football the most.
We are also supporting five young men through university applications. Before arriving, one had been preparing to start medical school and a second, who was an English teacher in Afghanistan, is now planning to go to university for mechanical engineering or accountancy.
A borough for everyone
Everyone is welcome in H&F, its part of our promise to be a compassionate council.
West London Welcome, a community centre run for and with refugees, asylum seekers, migrants and locals, provides ongoing support for those who need it in West London.
West London Welcome's Director, Joanne MacInnes, explained why providing new arrivals with a school place was so important: "Going to school is essential for any child but it's especially critical for a child living in a hotel with no communal spaces or access to play areas.
"An H&F school place will support each child's mental health, quickly improve their English, and ensure they are fully integrated into our borough's community."
Most of H&F's new Afghan residents speak Pashto as their native language, with some speaking Dari. All who do not currently speak English have said they're excited to start learning.
Want to read more news stories like this? Subscribe to our weekly e-news bulletin.