To mark Holocaust Memorial Day a survivor visited Hammersmith to offer her heartbreaking and cautionary tale.
Renee Salt, now 87, shared her first hand experiences of one of the darkest episodes the world has ever seen. "As soon as the Germans entered Poland, they began to persecute the Jews. We were not permitted to practise their professions, we were not allowed to keep their shops open or walk on the pavement.
"They soon made us wear a yellow Star of David, pinned on the front and back of our clothes; without it you were not allowed to go out. Jews were beaten up all the time."
Speaking at Hammersmith Town Hall on Tuesday, she told the humbling – and often harrowing story – of her life as a Polish Jew during the Second World War. She spoke incredibly powerfully about the personal impact of the dehumanisation of an entire race under occupation by Nazi Germany.
Cllr Sue Fennimore, H&F Cabinet Member for Social Inclusion, who invited Renee to speak, said: "It is vital we reflect on these testimonies, try to learn lessons from survivors' experiences, and challenge hatred and discrimination in all its forms."
Violence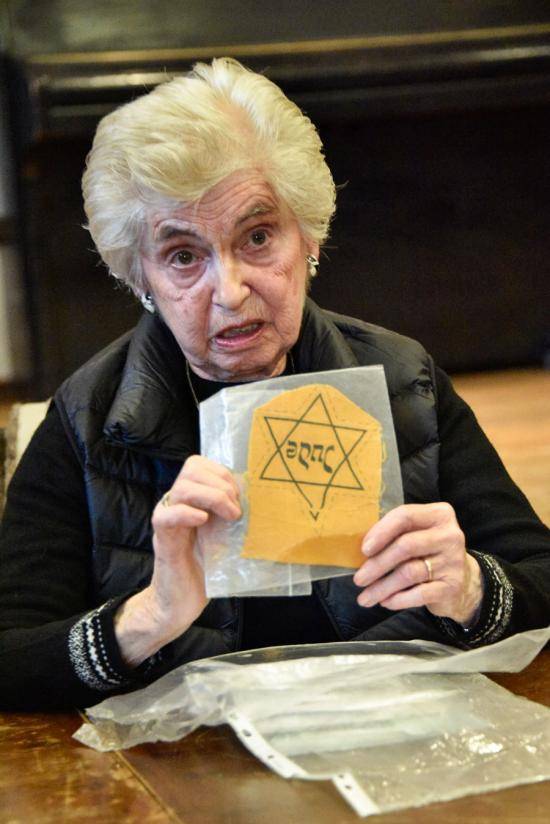 Renee also spoke emotionally about her early life, in a small town near to Lodz in Poland.
Her experiences included being an almost daily witness to violence and death, the disease-ridden conditions of the Lodz ghetto, and her imprisonment as a teenager in the Auschwitz death camp.
Remembering her arrival at the death camp in 1944, she said: "Guards moved in, shoving us into columns, some whispering: 'You are in Auschwitz-Birkenau, this is the place where people are being taken straight to the gas chambers.' We had heard nothing about this bewildering place.
"We were pushed into a queue and at the head a selection was being made by the infamous Dr Mengele – the 'butcher of Auschwitz' – as we later learned. The movement of Dr Mengele's hand determined whether you lived or died."
She, along with others, was liberated from the Bergen Belsen camp on 15 April 1945 by members of the British Second Army; later to marry a man who was among the first British Military Police to enter the camp.
After the war
Having lost almost her entire family to the Holocaust, she has dedicated many years to sharing her story with others.
"After the war, we made our way back to Lodz in Poland and I realised that I had lost my home, my possessions, my entire family, my health and my education," she said.
"In 1949 I met my husband, Charles, in Paris. He is British and, coincidentally, was one of the Military Police who were among the first to enter Belsen.
"He brought me back to London and we were married the same year. We had a son and a daughter, and now have five grandchildren."
Renee, who has lived in London since 1949, stressed the importance of the lessons to be learned from her experience; and spoke of her concern at a recent rise in anti-Semitism, and other forms of racial intolerance, in both Britain and the rest of the world.
You can find out more about Renee and the work of the Holocaust Memorial Day Trust, here.