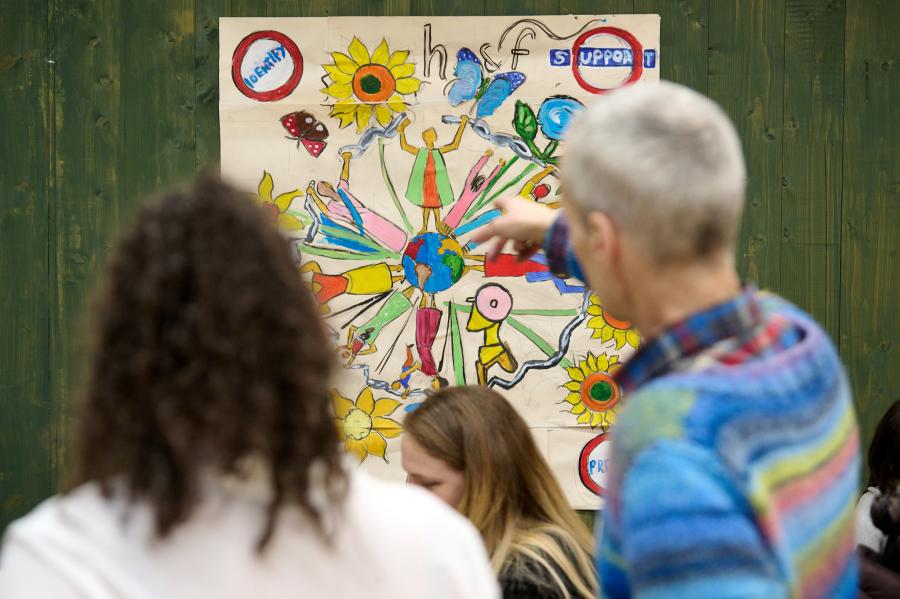 What is modern slavery?
Modern slavery is complex; but simply put, it describes a situation where someone is made to do something, and another person gains from this. It is deception or coercion for the purpose of exploitation. The purpose of exploitation may include:
Forced labour
Sexual exploitation
Domestic servitude
Criminal exploitation
Forced/ sham marriage
Organ harvesting
Victims can be any age, gender, or race, but are often taken advantage of due to their vulnerability. This is a serious crime which directly violates the human rights of its victims.
The Home Office has in its annual report on Modern Slavery for 2020 (pdf) referenced a report by the Centre for Social Justice, titled 'It still happens here: Fighting UK slavery in the 2020s', which estimated that there could be at least 100,000 victims of modern slavery in the UK
That's why it's important to recognise the indicators of modern slavery and to know how to respond if you suspect someone is a victim. Find out how you can play your part in ending modern slavery by reading our Ending modern slavery strategy which sets out our objectives and demonstrates the things individuals, communities, professionals, and society can do to help reach the shared goal. Ending modern slavery is everyone's responsibility.
Our strategy
"Modern slavery is one of the most widespread crimes in the world. These crimes are abhorrent, but to make things worse, they can often be happening all around us, in our communities, and right under our noses. In Hammersmith & Fulham, compassion is at the heart of everything we do, and we are determined to play our part in eradicating modern slavery – whether it's happening within our borough or elsewhere. To make sure we're doing that, our inaugural modern slavery strategy has been co-produced by partners, including by survivors and residents. The strategy recognises that it is everyone's responsibility to tackle modern slavery. By working together, we can all play our part in preventing exploitation, bringing exploiters to justice, ensuring the best support for survivors, and eradicating modern slavery in Hammersmith & Fulham" Cllr Sue Fennimore Deputy Leader Hammersmith & Fulham Council
Hammersmith & Fulham Modern slavery strategy sets out our objectives for the next five years and how we will achieve them.
Ending Modern Slavery in Hammersmith & Fulham (pdf 1MB)
For a plain text version of the strategy see Ending Modern Slavery in Hammersmith & Fulham (text version pdf 500KB)
Our strategy was developed in conjunction with Stop the Traffik and we have been championing a multi-agency response to modern slavery since the formation of the Modern Slavery & Exploitation (MSE) Group in 2013. The council, police, NHS and over 15 NGOs make up the MSE Group and we're working together to shape the strategic response to ending modern slavery. We recognise that some people are disproportionately at risk of exploitation and/or have limited access to resources. Exploiters take advantage of these vulnerabilities.
We will regularly review the Modern slavery strategy in line with our Equalities Strategy and our Social Value Strategy to ensure we remove barriers to inclusion and inequalities that persist in our communities.
Our objectives
Objective One: Victims identified - Identifying people as victim/survivors of modern slavery is important in making sure they can access appropriate support.
Objective Two: Exploitation prevented - By investigating exploitation and empowering individuals to know and exercise their rights, we can prevent exploitation.
Objective Three: Victims supported - Victim/survivors of modern slavery can have a range of needs and our approach is both holistic and trauma-informed.
Objective Four: Exploiters bought to justice - Modern slavery is a crime and exploiters must be brought to justice to prevent them from exploiting others.
How do I recognise a potential victim of modern slavery?
If you suspect someone is a victim of modern slavery, it is essential that you report it to the relevant authorities. Please do not confront the controller as it is may put both yourself and the victim at harm.
By knowing the signs of modern slavery, you can help stop it. Here's what to look out for in a potential victim:
fearful, anxious or distrustful of authorities
appears malnourished
shows signs of trauma (physical or psychological)
suffers injuries that may be the result of controlling measures or that have been left untreated
unfamiliar with local language or context
does not know their home or work address
has a story that sounds rehearsed
dependency and presence of a controller – allows others to speak for them when addressed directly
believes they have a debt to pay off
separated from their ID documents
do not have any days off, or unable to leave their work environment
has limited or no social interaction
reveals threats have been made against them or their family.
Learn to spot the signs of modern slavery by visiting the Unseen UK website.
For more information on the forms, indicators and referral pathways of modern slavery please visit the
Stop The Traffik website
.
What you can do if you have concerns
If you feel you are a victim of modern slavery, or being exploited, help is available.
Council support
If you are with a victim of modern slavery who's requesting support, please use these contacts:
Contact the customer support centre on Freephone 0800 145 6095, 8am to 6pm, Monday to Friday, mention modern slavery – they will complete the next steps.
Out of office hours, please contact the emergency duty team on 020 8748 8588.
For local services, visit the Angelou Partnership website.
In an emergency, always call 999.
The Modern Slavery and Exploitation Helpline
The helpline provides information, advice, and guidance about any modern slavery issue relating to potential victims, businesses, and the public in the whole of the UK.
Call 08000 121 700 for free, confidential advice. Available 24 hours a day, 7 days a week, and in 200 languages.
Medaille Trust
The Moving on Project provides tailored, one-to-one support and a drop-in service to women affected by modern slavery across London, offering support with employment and education, physical and mental wllbeing, community integration, independent living and access to justice. Interpreter services are available for Romanian.
For support, please call 0800 06 999 16.
East European Resource Centre
An organisation working with vulnerable and disadvantaged Eastern Europeans, offering information, support and advice to communities with welfare benefits rights, immigration, domestic abuse and violence against women, and hate crime.
For Romanian or English language, call 07730021986, Monday to Thursday, 10am to 4pm.
For questions on the European Union Settlement Scheme, please email
euss@eerc.org.uk
.
Citizens Advice Bureau
An independent organisation specialising in confidential information and advice to assist people with legal, debt, consumer, housing and other problems.
Work Rights Centre
A registered charity providing support to access employment justice, and improve their social mobility.
The charity's caseworkers in London help people fight unscrupulous employers, apply for jobs, access benefits when they're struggling, or secure their immigration status.
For free, confidential advice, call 0300 4000 100. Available in a range of languages, including Romanian, Ukrainian, Russian, Bulgarian, and Spanish.
Modern slavery and human trafficking statements
Modern slavery and human trafficking statement 2022-23
Modern slavery and human trafficking statement 2021-22
Modern slavery and human trafficking statement 2020-21
We have signed the Charter Against Modern Slavery. The charter makes a clear statement that modern slavery has no place in our supply chains. Signing the statement is our pledge to proactively vet supply chains to ensure modern slavery is not taking place within them.
Find out more about the Co-operative Party Charter Against Modern Slavery, why it was important to commit to it, and read a detailed outline of our commitments.