Read the Annual Report 2023-24 on Yumpu.com.
Download the Annual Report 2023-24 as an accessible pdf file (5 MB).
Doing more with significantly less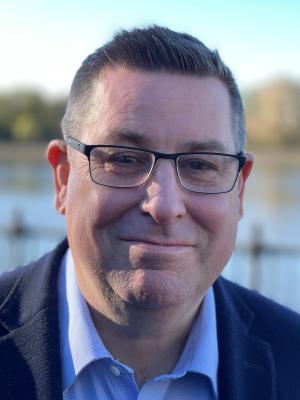 Cllr Stephen Cowan, Leader of Hammersmith & Fulham
The budget for the year ahead has been put together in what are some of the most difficult financial circumstances our country has faced in the post-war period.
Most council funding comes from central government, but this year's total net expenditure budget is 56% lower than it was in 2010.
There are also additional challenges. Brexit, the pandemic and Putin's illegal invasion of Ukraine has caused a variety of problems from buying essential products and materials to sourcing skilled labour. And following the government's mini-budget, on 23 September last year, the resulting extra inflation and interest rates cost Hammersmith & Fulham £15m.
However, in 2014, my colleagues and I introduced what we called the Ruthless Financial Efficiency programme.
We believed that we could cut wasteful spending by modernising what was an old-fashioned bureaucracy. That meant using the latest technology and the smartest data analysis to redesign how different parts of the council operate. It has meant renegotiating contracts, cutting layers of management and closing council magazines and newspapers.
The Ruthless Financial Efficiency programme has allowed us to save a record total of £165m since it was introduced nearly nine years ago.
We have used that money to deliver the third lowest council tax in Britain and invest in more and better services. We have set a council tax level that is now 33% lower in real terms than it was in the financial year 2010/11 – using the 2023-24 Band D rate of £871.86 as the measure.
Council tax is a regressive tax. And the cost-of-living crisis is causing dreadful hardship to tens of thousands of residents across our borough. So, Hammersmith & Fulham is just one of a handful of councils in Britain that have structured council tax in such a way that only 53% of residents pay the full amount and our very poorest residents do not have to pay anything at all.
In 2015, the government abolished its Council Tax Freeze Grant, which had incentivised councils to freeze or cut council tax. Now the government bases their funding of each council on the assumption that all councils will follow their modelling to put council tax up by the maximum and add the full adult social care precept.
My colleagues and I have not done that. We have cut or frozen council tax for five out of the last eight years.
But local government is about delivering services and improving the area for all. My colleagues and I have agreed to invest an extra £10.6m bringing Hammersmith & Fulham's total budget to £132.6m. Those funds will maintain a wide range of vital services such as cleaning and improving our environment, protecting children, helping homeless people, supporting our elderly and Disabled residents and more.
But it will also pay for extra actions such as:
72 Law Enforcement Officers
an extended gangs unit to keep young people safe
the most sophisticated and extensive CCTV network in Britain
new measures to protect women and girls
free home care – the only council in England to do that
free breakfast for all primary school children
meal vouchers for children outside school term times
help for people needing foodbanks.
In the last two years, we have set aside £9m to provide crucial cost-of-living support for our residents needing help. We added another £1m to that budget.
These are challenging times.
But by working with our residents, local businesses, charities, our local hospitals, universities and schools we can together shape things for the better and make our borough a stronger, safer, kinder place for all of us.
That's what I believe the budget we have set will contribute to doing.
For more information – including what to do if you are moving in or out of the borough, how to set up a Direct Debit, how to request a refund, and more – please visit our council tax webpages.