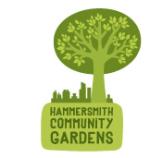 Service name:  Growing Communities
Service description 
Hammersmith Community Gardens Association 
HCGA maintains 4 community garden sites in the borough and runs regular weekly volunteer sessions at each of them.
In addition we provide practical advice and support for other smaller 'Friends of 'groups in the borough.
Environmental workshops and team building days for local businesses wanting to help improve the local environment.
HCGA also rund family learning activities during school holidays
Funded until
30 September 2023        
Annual funding level
£35,000
In the past year
The gardens's volunteers have only been able to operate from June – December due to Covid-19 restrictions.
Number of residents supported
The gardens are open access sites – number of visitors are not tracked.
Use of volunteers
The service's 55 volunteers delivered 2000 hours of work, equivalent to £21,700 if using the London Living Wage as a proxy measure.
Outcomes being achieved
6 supported volunteering sessions delivered each week (from mid June to December 2020 (currently suspended due to covid)
Over 500 activity packs made and distributed during covid lockdowns and bi weekly activities newsletter produced
Specialist workshops  5 x weekly sessions via zoom Beginners Bee keeping attracted 40 participants, hoticutlaural talks 12 Plants of Christmas and Houseplants
Community gardens being maintained and improved
Family Learning - holiday play activities for local families
Funding raised
£190,000 above 3SIF grant
Future plans
Complete the Glasshouse Redevelopment project in 2021
Improvements to the east side of Loris Garden
Continue to deliver volunteer sessions
Continue to support other local environment groups
Maintenance of SUDS planting projects