King Street destination
The new Civic Campus will become a 'go-to' destination, providing welcoming, comfortable, convenient and inclusive spaces for the community to work, learn and share ideas.
Panoramic roof gardens, public squares, restaurants and bars sit alongside a cinema while performance areas, gallery space and shops will create an iconic new community around Hammersmith's revitalised Grade II-listed art deco Town Hall.
Its award-winning design from architects RSHP stems from its ethos that sees beauty, accessibility and environmentalism woven into every aspect of the scheme. It is an inclusive space that uses new technology – such as solar panels and ground source heat pumps – to provide low-carbon energy.
Our award-winning architects have taken our ethos and vision for the Civic Campus to give us stunning new public amenities to breathe new life into our borough.

We have benefited throughout from the commitment and wisdom of local volunteer commissioners. I am forever grateful to them and to all the people who attended the exhibitions offering their insights and advice.

It will be a beautiful, environmentally positive and accessible new quarter where people can live, work, play and relax."

H&F Leader, Cllr Stephen Cowan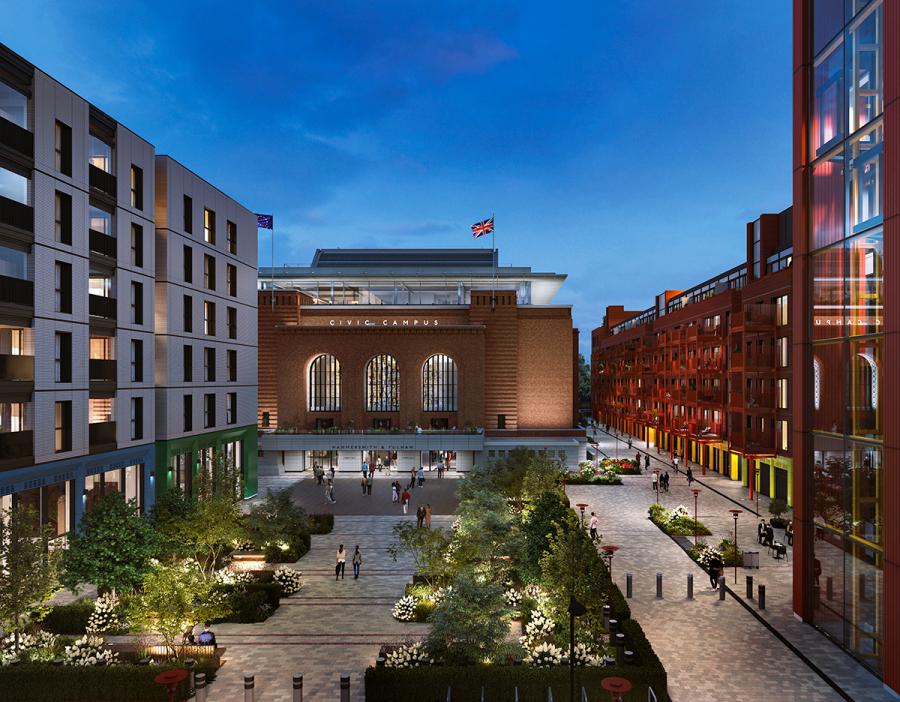 What is happening?
The new Civic Campus bolsters Hammersmith's transformation into a global tech and media hotspot.
Through our pioneering Industrial Strategy with Imperial College London, we've already helped create 8,000 new local jobs in the science, tech, engineering, maths, medicine and media industries since 2017.
Now, we're looking to support start-ups and global leaders of the future to join us.
The Civic Campus will offer inclusive, welcoming and safe spaces where residents and local businesses can access important services. By setting new benchmarks for London, we will create opportunities for better living, grow local talent and business, as well as offer new ways to entertain, educate, debate and play.
We also hope that the new Civic Campus will act as a catalyst for growth and community cohesion, as well as to create a transformative shift in the delivery of council services and community placemaking.
Architects RSHP worked with our Civic Campus Commission from the start to ensure the new environmentally positive designs met the needs of local people and added to the beauty of the original Grade II-listed Town Hall which was built between 1938-39.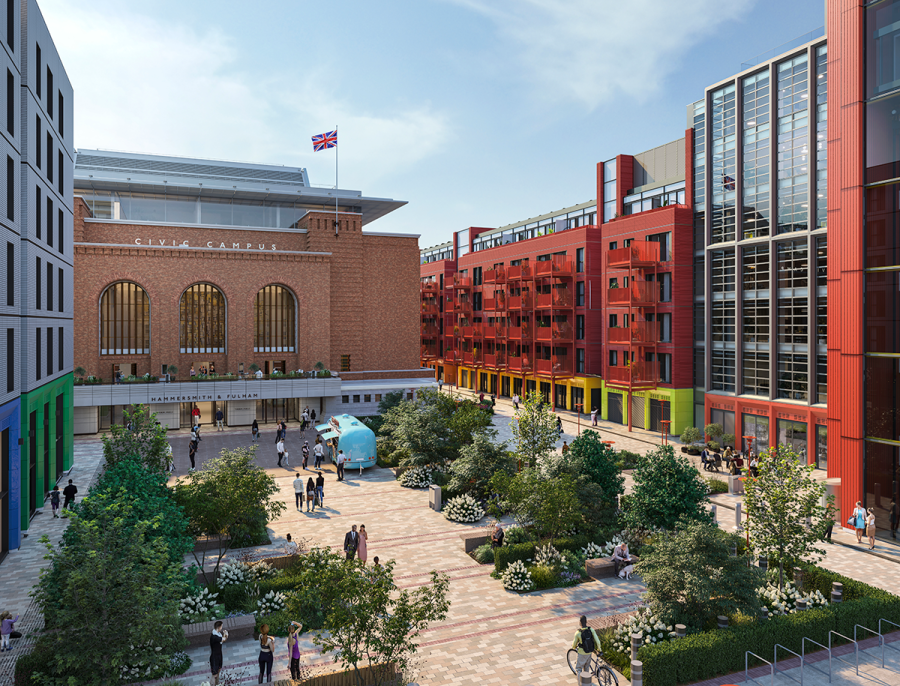 Affordable homes
More than 50 per cent of the new homes at the Civic Campus will be affordable for local residents. 
There is a mix of unit types and sizes to suit single occupants as well as families. All apartments feature private terraces, as well as landscaped resident gardens and a residents' roof terrace overlooking the River Thames.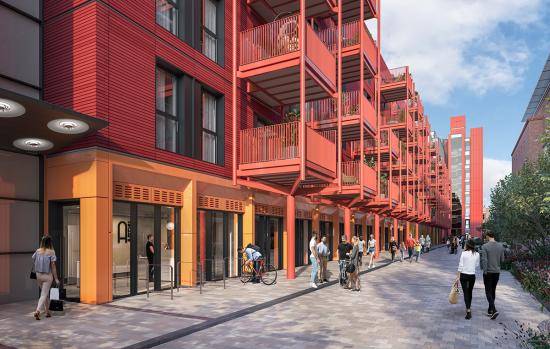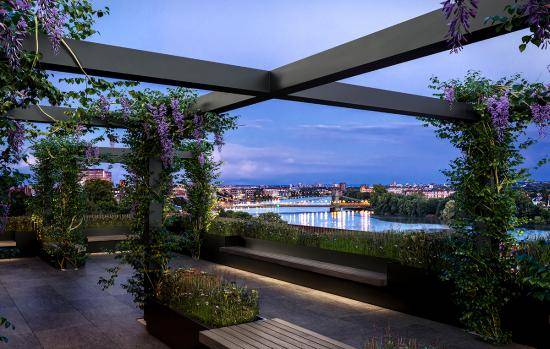 Cinema and arts
A new five-screen cinema, performance venues, gallery space and public art programme will celebrate the area's heritage as an arts and culture centre. The cinema will show a mixture of blockbuster and arthouse films.
Public piazza
The new Unity Square public piazza has been designed by renowned landscape architects Gillespies to include new gardens, a staging area for performances, cafe dining and a welcome space for people to sit, rest and breathe easier.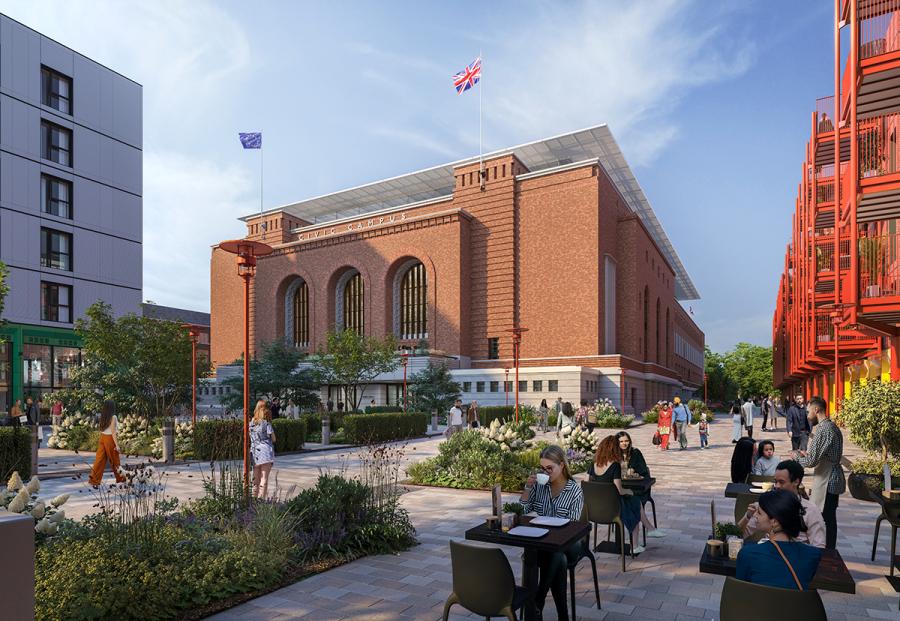 Inclusive design
Our Civic Campus Disabled Residents Team worked alongside the architects to ensure the new buildings would be fully accessible for Disabled people. See co-production below.
The environment
Ground source heat pumps will provide low-carbon heating to minimise our carbon footprint and cut energy bills for the council, residents and businesses.
Office space
Flexible office space for start-ups is a cornerstone of the Civic Campus as part of our ground-breaking Industrial Strategy.
The Civic Campus features over 6,000m2 of innovative and flexibly-designed commercial space – including affordable facilities – to allow entrepreneurs, start-ups and scale-ups alike to be part of an eco-system of cutting-edge sectors like biotech, life sciences, cleantech, engineering, AI, media, the arts and more.
It will also offer study space for young people and students.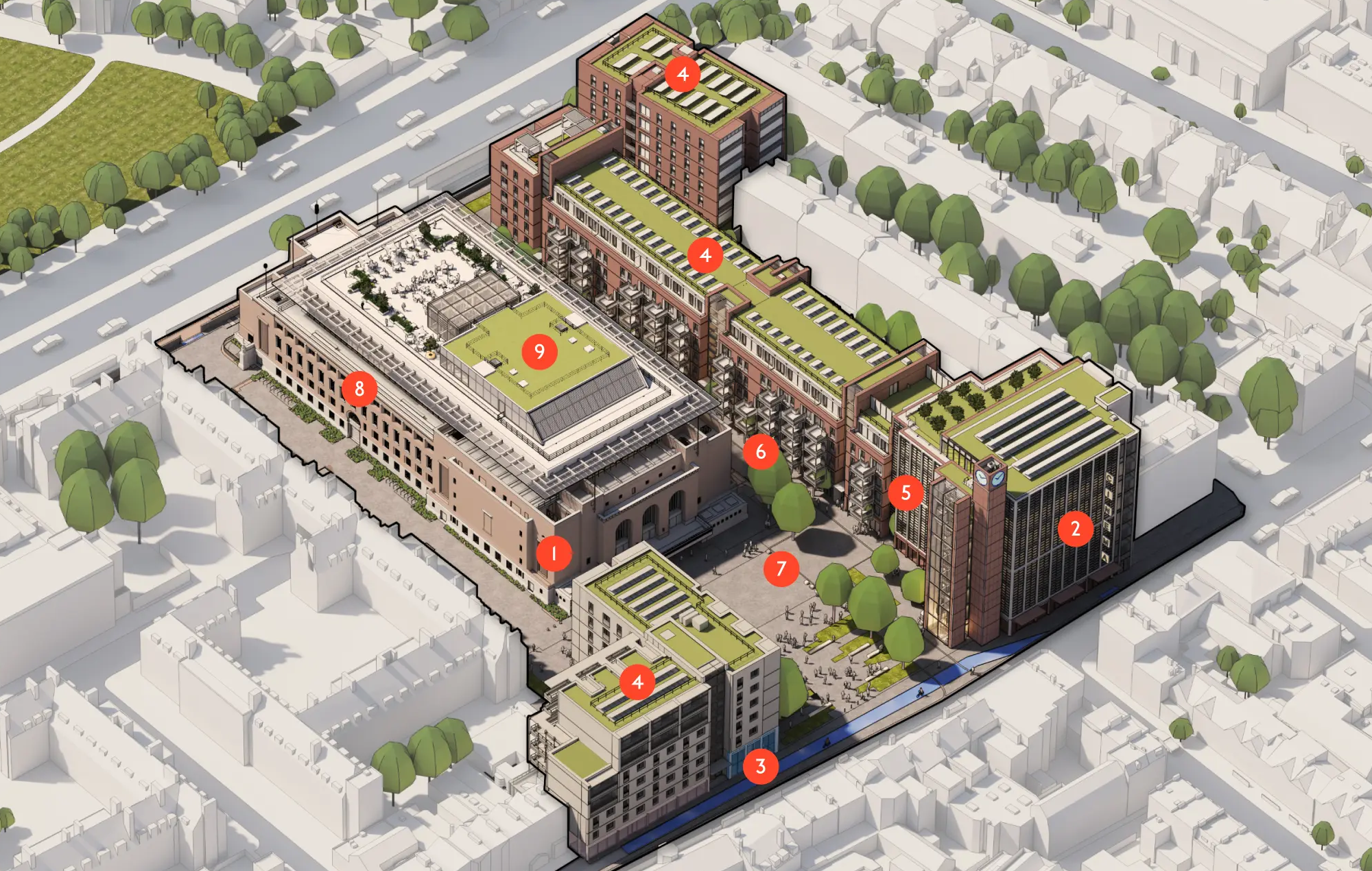 Locations on the map
Civic Campus and new town square
5-screen cinema 
Cafes, restaurants and shops
204 new homes
Flexible office space
Affordable creative workspace
Unity square public piazza
Concert and theatre hall
Rooftop restaurant bar and terrace
Co-production
The scheme has benefited from the experience and wisdom of the borough's independent Disabled residents team who have worked with us to design a fully accessible building, as well as resident volunteers who worked (without pay) as our independent town hall commissioners.
They've worked tirelessly with our architects RSHP and the developer A2Dominion to help deliver a scheme that will benefit the borough for decades and significantly improve Hammersmith.
Richard Winterton, chair of the Civic Campus Commission, said: "We acted as a wholly independent, voluntary group to inject a citizen's perspective on the developing design of the scheme. We firmly support the application, in particular the transformation of the original town hall building and the new town square, the number of affordable homes, and the new four-screen cinema."
Jane Wilmot, from the H&F Disabled Residents Team, said: "Barriers faced by Disabled people in using buildings and open spaces were raised early before plans were submitted rather than left to detailed design at a later stage. This way of working together allowed robust solutions to be found early as well as saving time and money for the developer. This is most unusual and should be adopted in all major development projects."
Danny Lynch, Director of Land and Development at A2Dominion, said: "This development will address the shortage of good quality affordable homes in Hammersmith, create better facilities for the community and improve connectivity to the riverside. We look forward to working with our partners to deliver a scheme which makes better use of the land and creates genuinely affordable homes for local residents."
And Mark Rintoul, Project Architect at RSHP, said: "The council's pioneering collaboration with multiple stakeholders and local amenity groups has defined this truly community-led development to deliver a civic campus with access for all."