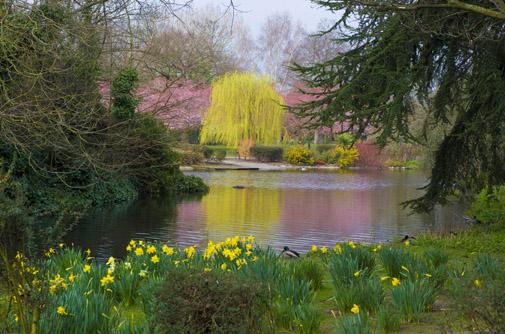 Ravenscourt Park is one of the borough's flagship parks and features a paddling pool and kids' beach in the summer.
The 13-hectare open space is well used and loved by local residents and visitors, particularly its wildlife habitats, play facilities, tennis and basketball courts, and its popular tea-house and garden centre.
Transport links
Nearest tube: Ravenscourt Park or Stamford Brook (District)
Buses: 27, 190, 267, 391, H91, N9, N11
Walking directions
From Ravenscourt Park tube, turn left along Ravenscourt Road, right for a short distance along King Street, then right again onto Ravenscourt Avenue. The park entrance is straight ahead.
From Stamford Brook tube, head north on Goldhawk Road, turn right into Ravenscourt Gardens, then left onto Ravenscourt Park (street) and in through the park entrance.
Main entrances to Ravenscourt Park are on King Street, Ravenscourt Avenue, Ravenscourt Road, Paddenswick Road and Goldhawk Road.
Paddling pool
The Ravenscourt Park paddling pool is now closed.
Facilities
four play areas for 0-5 year olds
one play area for 5-13 year olds
paddling pool
sandpit
cafe
tennis courts
football pitch (astroturf)
basketball courts (outdoor)
netball courts (outdoor)
bowling green
garden centre and cafe
Opening hours
Opening hours are approximate and may vary. Please contact us at let.hf@lbhf.gov.uk. Normal opening hours are from dawn to the closing times below. 
November 7pm
December 7pm
January 7pm
February 7pm
March 7.30pm
April 8.30pm
May 10pm
June 10pm
July 10pm
August 9.30pm
September 9pm
October 8.30pm
History
The park's history goes back to medieval times, when the lake in the centre of the park, which is fed by Stamford Brook, was part of the moat that surrounded Paddenswick (or Palingswick) Manor. It was only in 1888 that the 32 acre site was officially opened as public parkland.
King Edward III's mistress Alice Perrers lived in the manor during the 14th century. The manor house was rebuilt in 1650 and in 1747 it was sold to Thomas Corbett who named it Ravenscourt, probably derived from the raven in his coat of arms, which was itself a pun on his name as corbeau is French for raven.
In 1812 the Ravenscourt House and estate were bought by its final private owner, George Scott, a builder and philanthropist who developed nearby St Peter's Square. Scott employed leading landscape architect Humphry Repton to lay out the gardens of the estate.
Wikipedia page
Ravenscourt Park's Wikipedia page
Friends of Ravenscourt Park
Friends of Ravenscourt Park website
ravenscourtparkfriends@hotmail.co.uk
Trees of Ravenscourt Park
Friends of Ravenscourt Park unveil magnificent tree map
Location
Paddenswick Road
Hammersmith
W6 0UA