Sama Rahnama is a taekwondo champion at the tender age of seven.
The pint-sized sportswoman trains at the Edward Woods community centre in Shepherds Bush, encouraged by dad Medhi, a taekwondo master coach.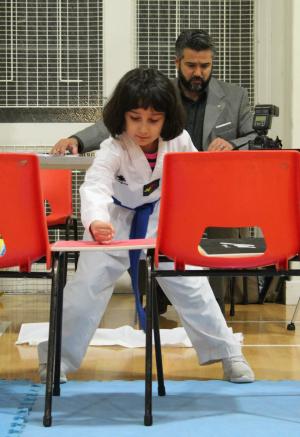 Reluctant to sit around playing with dolls, Sama took up the Korean martial art at the age of two and half, spending much of the early sessions sitting, exhausted, on her mother's lap!
"She could kick and do some movements at the age of three, but I didn't give her a grading until one day she asked me 'Why is everyone else getting new belts but not me?'" said her proud father.
Sama learnt the 'patterns' of the martial art, which entails flying through the air and delivering head-height kicks.
By the age of three she had gained her yellow tag, then her yellow belt at the age of four. A year later she was a green belt, by six a blue belt and eventually, at the ripe old age of seven, she had earned both red and black belts.
Sama, who will be taking part in the Pattern World Championships in South Korea in 2019, had to perform 10 self-defences and complete a three-minute presentation to gain her black belt.
"Taekwondo is not just a sport, it is the art of self-defence, self-control, self-confidence, self-discipline and self-esteem," said Medhi.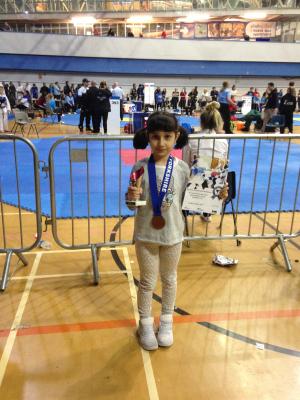 Congratulating Sama on her success, Cllr Larry Culhane, Cabinet Member for Children and Education, said: "To have achieved so much by the age of seven is remarkable, and we all wish her the best of luck when she competes in South Korea next year."
To date, Sama has taken part in only one championship, gaining a bronze medal and trophy, despite competing against nine and 10-year-olds.
And if you fear for the state of the Rahnamas' ornaments and framed photographs at home, relax. "Sama is kind and friendly with other children, and one of her best qualities is that she likes to give her younger sister, and other children younger than her, gifts," confirmed dad.
Edward Woods centre manager Jacquie Boyce added that she, and everyone at the centre, was proud of Sama and her achievements.
Want to read more news stories like this? Subscribe to our weekly e-news bulletin.