The Lyric Hammersmith has reopened after an ambitious £780,000 restoration of its historic theatre.
Three months of painstaking work saw the Lyric's 550-seat Victorian auditorium refurbished and its smaller studio theatre modernised.
It was the first top-to-toe refit of the theatre space and studio since 1979 when the theatre was moved a short distance, brick by brick, from Bradmore Grove, which was a cul-de-sac (which no longer exists) to its current home in King Street's Lyric Square.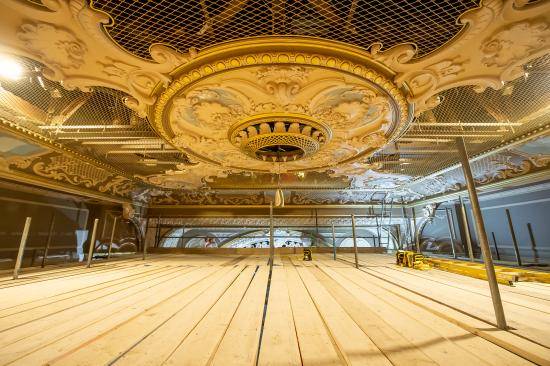 The venue was originally designed by Frank Matcham in late Victorian times, who also designed one of the borough's most iconic buildings, the Shepherds Bush Empire.
"The renovation works look amazing," said Cllr Andrew Jones, H&F Cabinet Member for the Economy and the Arts.
"The Lyric is one of our most important theatres in the borough and it continues to produce world-class productions. It's also a critical part of making H&F's vibrant art, culture and creative scene even better."
Theatre revamp
H&F Council financially supports the Lyric – as part of the council's larger Arts Strategy to make the borough one of the leading destinations in the country for the arts.
The recent building works have improved access, reduced energy use, boosted audience comfort and enhanced the theatre-going experience at the Lyric.
All the plasterwork and ceilings were restored, and seats upgraded with removable seating in the stalls to create a more versatile space.
VIDEO: Restoration time lapse
The refurbishment was the latest phase in the Lyric's award-winning multi-million pound expansion which has already seen the foyer redesigned and the Reuben Foundation wing added.
New season
Following the extensive works, Othellomacbeth is now playing in the newly-revamped Hammersmith theatre until Saturday 3 November.
The new production is a bold, thought-provoking staging of two of William Shakespeare's most powerful plays... combined!
Meanwhile, panto lovers will have a treat to look forward to as the Lyric marks its 10th anniversary with a bumper version of Dick Whittington. The family-focused show, co-written by Jude Christian and comedian Cariad Lloyd, opens on Saturday 17 November, and runs until 6 January.
Check out what else is going on at the Lyric Hammersmith.
Want to read more news stories like this? Subscribe to our weekly e-news bulletin.
By sending us a comment, you are agreeing to our publishing policy.