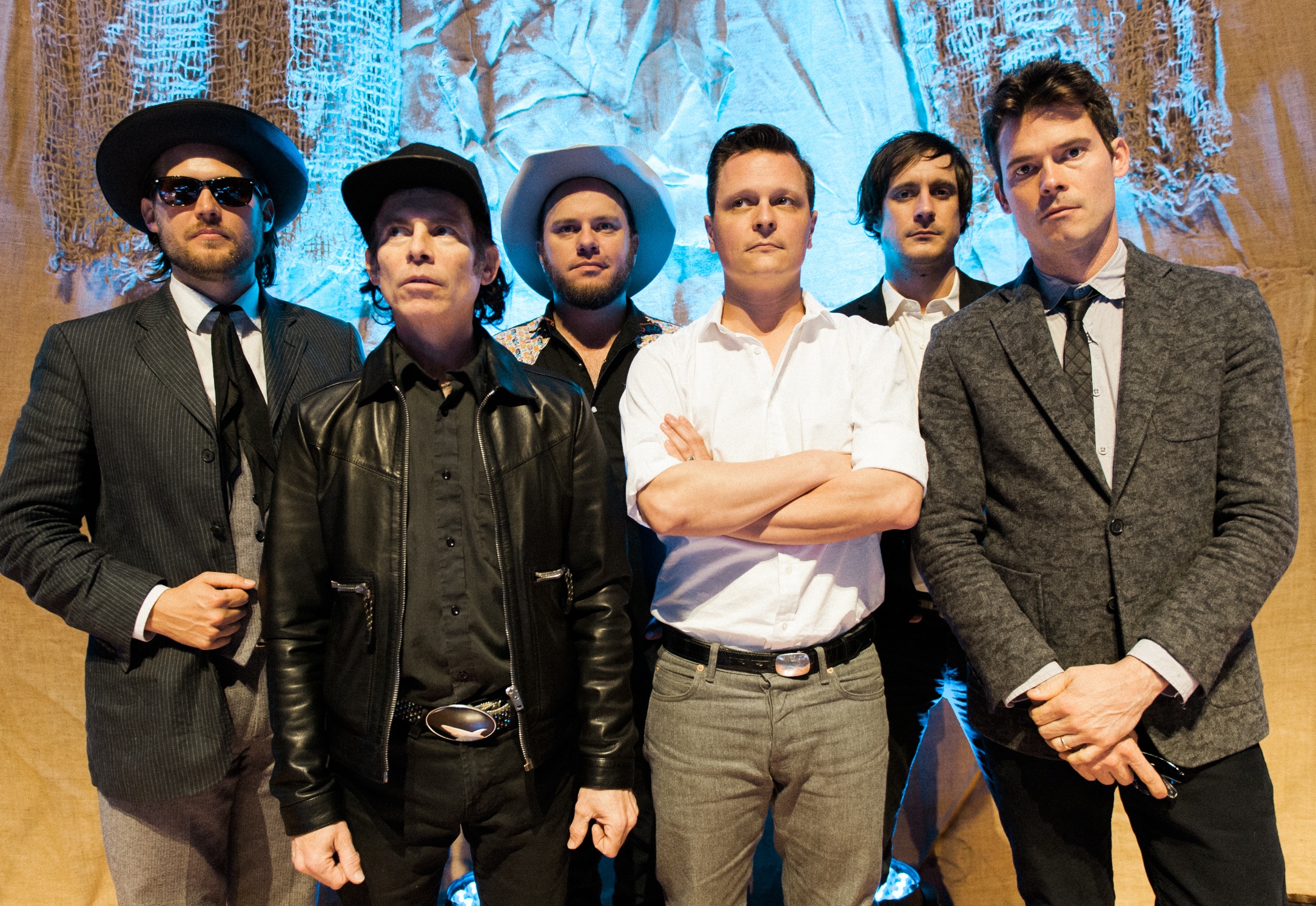 Fifty years after Bob Dylan released his legendary double album, Blonde on Blonde, Nashville country music veterans Old Crow Medicine Show pay tribute with a rousing set at the O2 Shepherds Bush Empire
When the 1965 recording sessions for Bob Dylan's seventh album hit a rough patch in New York City he decided to leave town.
Dylan headed down to Nashville Tennessee and teamed up with some of the city's best sessions musicians on the country scene to create his legendary sprawling double album, Blonde on Blonde, released in 1966. 
More than fifty years later it's this musical milestone that inspired mega Dylan fans and Nashville veterans Old Crow Medicine Show to take his iconic album on tour. They recorded their own version of it last year and played the album in its entirety – start to finish – at the O2 Shepherds Bush Empire on Wednesday night (28 June).
Shepherds Bush is hardly unfamiliar territory for the well-travelled band. They even recruited West London band Mumford & Sons for the historic 2011 Railroad Revival Tour, which also featured Edward Sharpe & the Magnetic Zeros. This tour had the bands riding a vintage train from California to New Orleans, playing shows along the way. It was all captured in the Emmet Malloy-directed documentary, Big Easy Express. 
And it takes just the opening tune of Rainy Day Women #12 & 35 and its rousing chorus to hear what the Old Crows are bringing to the tunes. First, it's speed. The tune is positively hammered out. And throughout the set Dylan's tunes are played on the front foot. 
Second, it's accuracy. Not just in the annunciation of all of Dylan's lyrics – which is weird enough to hear all the lyrics crystal clear for the first time – but in the band's well-drilled approach. The six guys in the band just don't miss a beat. Fast, tight and with a smile is how they play and the packed Empire crowd lapped it up.
Lead singer Ketch Secor sounds nothing like Dylan. Looks nothing like Dylan. Plays guitar nothing like Dylan. But with his aw-shucks boyish appeal he leads the band through their barnstorming show. But the most remarkable thing about their big slick show is that, ultimately, they bring their own style and sound to Dylan's classic songs. Which is no mean feat.
And it's a very enjoyable night. Sure, it's a bit hokey at times and hardly as nihilistic as grouchy old Bob could sometimes be. But their main influence is clearly the Grand Ole Opry in Nashville, which was always high on style and production value. Big smiles, big theatrics. And if nothing else that standard has guaranteed that the Old Crows know how to sing, dance and entertain with the best of them. 
Switching instrumental duties in a flash sees Ketch surrender to microphone to banjo and guitar player Critter Fuqua – who knocks out a truly convincing version of One of Us Must Know (Sooner or Later). While later in the set Cory Younts takes the mic to play the court jester with his playful, if crude, take on the already comic Leopard-Skin Pill-Box Hat.
But all the fancy fiddling and picking in the world can't disguise that Dylan's most ambitious and bizarre albums is pretty hard to recreate. Most of the audience are being carried right along throughout the homage. But it takes the songs after Blonde on Blonde for the Empire to really wake up. They want to hear The Crows play their own hits – such as Wagon Wheel. 
This helps reveal the undeniable tension that Dylan exploited so well on Blonde on Blonde. It's not a country album. And it's not a moody rock album. It's the sound of these two parallel universes balancing precariously in between. And while Dylan was somehow able to catch the lightning in the bottle, it's a tough ask. 
Dylan fans may have been left slightly cold by some of the renditions. While fans of the Old Crows had to wait patiently through two hours of Dylan to get to their fill of high-octane stomping country tunes. Either way, a good time was had by all.