Success stories
Read how our apprentices are enjoying learning new skills while earning money and looking to what opportunities the future may hold.
You're hired!
Emmanuel rolls up his sleeves for Shoots & Leaves apprenticeship
Young apprentice blooms while helping others.
Shamicka joins the jobs team.
Multi-tasking mum looks to the future.
Crossing the language barrier.
Apprenticeships success stories – Jordan Griffith-Brown
You're hired!
Since being taken on as an apprentice last year, Jordan Griffith-Brown's self-confidence has flourished. Now his work involves urging others to think about following the same path.
"I'm 21 and I grew up in Hammersmith. Being unemployed wasn't what I had envisaged for myself, but after leaving school I couldn't find a job.
The job centre suggested doing voluntary work – I wasn't sure it was for me but I gave it a try, doing office administration for a local catering firm.
"The work involved data entry, answering the phone and speaking to customers when they came in. I really got into it, and a position that was originally for eight weeks ended up being extended to 11 months.
"I became quite dedicated, and then my advisor at the JCP OnePlace told me about council apprenticeships. At first I wasn't sure, but I thought that if there was an opportunity for paid work, I shouldn't really pass it up, and the company I was volunteering for told me to go for it.
"There are different apprenticeships in retail, healthcare, catering and so on but the one I applied for was in business administration.
"I was invited in for an assessment and interview and although I was very nervous, everyone was very understanding and helpful. I was asked about the work I did at my volunteering job and I have since been told that that experience helped me secure the position.
My job is varied and interesting – every day is different and I'm never bored.
I'm based at JCP OnePlace and part of my work is to set up job fairs in the community, talk to people and let them know about the options available to them locally.
"I also do data entry, answer the phone, speak to customers who come in and work on whatever else needs to be worked on.
"The most rewarding part is probably taking part in events like the White City Christmas fair, because it gives you a real feeling that you're reaching out to local people and showing that the council is there to help.
"A lot of people don't know about the opportunities that are around, and when they speak to me about apprenticeships, they realise it's like a full time job. While you're earning money, you're studying and learning every day and developing your skills.
"The first year flew by and as well as working I attended college one day a week. I successfully completed my NVQ level 2 in business administration. I've now moved on to the level 3 which is more challenging and I am enjoying it.
"I'd like to go into a management position within the council, and once I pick up a bit more experience that should be possible.
"If someone had asked me to talk to strangers, give a presentation or organise an event a year ago, I probably would have run a mile, but doing an apprenticeship has made me realise that not only have my skills and confidence increased, I can have a proper career and I can be successful."
Get ahead
To find out about apprenticeships and work experience opportunities call Clare Edgson on 020 8753 4053 or email clare.edgson@lbhf.gov.uk
Apprenticeships success stories – Emmanuel Vessio
Emmanuel rolls up his sleeves for Shoots & Leaves apprenticeship
Working outdoors can be tough, and it's not for everyone.
But anyone who is enthusiastic about working hard, whatever their past experience, will be given a chance at landscape design and construction firm Shoots & Leaves.
Based at the railway arches in Trussley Road, Hammersmith, the firm has built strong links with the community and employs many local people to work on garden projects in west London and beyond.
Owner Hew Stevenson said: "We've been here 14 years now and being a local business is really important to us.
"A lot of our staff live in the borough, in White City and Shepherds Bush, or nearby in Acton. They're never late because they don't have to rely on public transport, and they're also more inclined to do overtime when necessary.
"It also reinforces our image as a local firm, which is important, and street knowledge is vital."
Having local workers also means they can be called on at critical times of the year, such as for the firm's annual Christmas tree stall in Brook Green, which does a brisk but unpredictable trade.
Hew said: "Last year there was one day when we were so busy, we had a queue of people waiting. I called the local guys to see if they could shoot down to work, and they did."
Shoots & Leaves recently launched its own apprenticeship programme, trying out five apprentices including White City estate resident Emmanuel Vessio, who Hew describes as 'brilliant'.
"What they don't need is experience," said Hew. "We're happy to try them out on the job, but what we need is people who have a work ethic. We've had lots of people come through the door who haven't lasted five minutes.
"If you have people who come in and are keen and want to work, and they're prepared to graft and do what's necessary whatever the weather, that's the most important thing to me.
"If you're hard-working, enthusiastic and want to learn, then you've probably got a place here."
Emmanuel started at Shoots & Leaves six months ago, after previously working as a bike mechanic and a barman at the Shepherds Bush Empire, and says he often finishes a day at his new job 'with a big smile on my face'.
Emmanuel said: "My mate Gabs at Work Zone gave me a phone number to ring. I was a bit hesitant at first because I didn't think people just gave out jobs like that.
"They told me to be at the office for 7.30am the next day, and I had a three day trial. You've got to put 100 per cent into everything that you do – I did, and that's why I got the job."
Get ahead
To find out about apprenticeships and work experience opportunities, call Clare Edgson on 020 8753 4053 or email clare.edgson@lbhf.gov.uk
Apprenticeships success stories – Lesley Grant
Young apprentice blooms while helping others
Lesley Grant is proud of growing up on a council estate in the north of Hammersmith & Fulham. Her life was transformed when she began an apprenticeship – and now she hopes her story can inspire others to take up opportunities in the area.
"Some people think the White City Estate has a bad reputation, but I've lived here all my life and I have never experienced anything other warmth and friendliness.
"There is a real community spirit here. My nan passed away a couple of years ago and all the neighbours rallied round and helped us. After leaving sixth form college I found myself unemployed, and as my mother couldn't cope financially, I had to claim Income Support to help pay the bills.
"I'd studied health and social care and planned to be a teaching assistant, but without experience I found it impossible to get a job. After signing on for a year I was asked to go on a two week course. I spent my time calling companies and applying for jobs online. We also had help with CVs and interview skills.
"It seemed hard but looking back now I can see it increased my confidence. As the course came to an end, the Job Centre told me about an apprenticeship in business administration at Hammersmith Town Hall. I applied and within a week I was sent an email asking me to write about myself, which I found difficult. When I heard that I would have to go along for an assessment, I panicked.
"I had to do customer service, ICT, English and maths. I'm okay with maths but felt very anxious about the rest. I needn't have worried, everyone was very friendly and most of the assessment was common sense. I was asked to list my three strengths and weaknesses. I'm patient, always punctual and I like meeting deadlines. If I'm honest my handwriting isn't good, I lack confidence and I'm not good with eye contact.
Even once I'd said that, I still got the post. Now I've been an apprentice for a while, my weaknesses have all but disappeared. Not only do I get paid but I've been attending college one day a week. I've completed a level 2 course in business administration and I plan to progress to level 3, which will give me management skills. If someone had told me two years ago that I'd be standing up and giving presentations to managers, I wouldn't have believed them. But I am, and I now feel very confident about my future."
Get ahead
To find out about apprenticeships and work experience opportunities call Clare Edgson on 020 8753 4053 or email clare.edgson@lbhf.gov.uk
Apprenticeships success stories – Shamicka Denis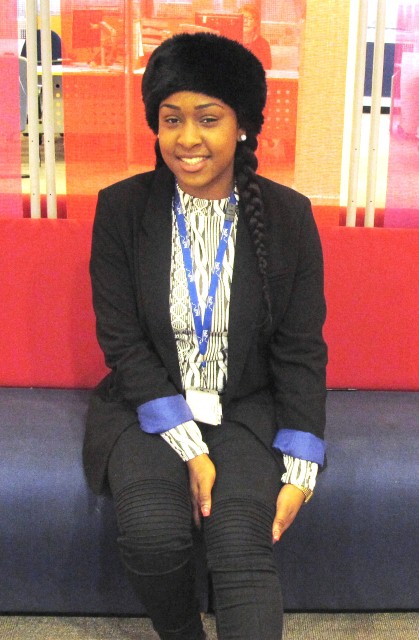 Shamicka joins the jobs team
After leaving school, 19-year-old Shamicka Denis tried a number of different jobs until she found an apprenticeship that suited her ambitions. The West Kensington teenager spoke to Sheree Edwards about her experience so far.
"I left school at 16 and went straight into work. I worked at quite a few designer clothes shops and department stores, but I didn't enjoy it and I never really felt retail was for me – mainly because of the management style, although I loved working with the customers.
"I always liked the idea of working in an office. I thought that a business administration apprenticeship would be just right. I went on to the Apprenticeships website and saw a position advertised at an estate agent, where I went on to work for five months.
"I learnt a lot about the different types of contracts and about the relationship between the landlord and tenant, but there was no proper structure to how work was given to me.
"I left the firm and after three months of claiming Job Seekers Allowance, I was offered a chance to do some volunteer work for Hammersmith & Fulham Council.
"I was placed at the One Place hub, which was a great experience, and the people I worked with were very helpful and supportive. One of the job brokers, Simon, put me forward for an apprenticeship at the council, and I was taken on as a Level 3 apprentice working at the Job Centre in Shepherds Bush.
"I find the work very challenging, but I also find it very interesting and intriguing as it allows my skills to develop. No day is the same – I enjoy interacting with the customers and different managers, and I'm learning a lot a lot about welfare reform.
"Outside work I enjoy going to the gym, shopping and spending time with family and friends. At first it was hard juggling work, college and my personal life, but as time has gone on I am able to adapt and manage my time better.
"This experience has helped me become a more business-minded person, and I feel that I have found the perfect job to develop and continue my career in the business world."
Get ahead
To find out about apprenticeships and work experience opportunities, call Clare Edgson on 020 8753 4053 or email: clare.edgson@lbhf.gov.uk
Apprenticeships success stories – Hollie Maher
Multi-tasking mum looks to the future
White City resident Hollie Maher, 26, has lived in Hammersmith & Fulham all her life. She has a six-year-old son and is currently working and studying as an apprentice with H&F Council.
"When my son was three years old, I enrolled on a two year hairdressing course at Ealing, Hammersmith and West London College. The course was fantastic and I loved hairdressing, but when it was finished I was unable to find employment in that field.
"I desperately wanted stability and to build a good future for me and my son, but in this economic climate it was proving difficult. I knew I had to be flexible and look for something else so I applied to become an apprentice at H&F Council.
"The application process was easy and I passed the assessment without any problems. I was able to study at college one day a week and get some qualifications while working and earning.
"I now work in executive services as an admin assistant. Every day is different, my role is varied and interesting and I'm never bored. I've now been in post just over a year and I've passed my level 2 and progressed to an NVQ level 3. At first I found it difficult juggling home life, childcare, work and college and course work, but with the help and support of my colleagues and family I was able to adjust and I'm thoroughly enjoying the job. I've become more organised, gained new skills and made new friends.
"My long term aim is to progress and study for a degree while working and building a positive future. My hope is that my son will work hard for what he wants, earn a decent income and choose a career he loves. My family and friends are proud of everything that I have achieved."
Get ahead
To find out about apprenticeships and work experience opportunities, call Clare Edgson on 020 8753 4053 or email: clare.edgson@lbhf.gov.uk
Apprenticeships success stories – Romina Melis
Crossing the language barrier
By pushing herself to improve her English, Italian-born Romina Melis has blossomed in confidence and is making great progress as an apprentice.
"I was born in Italy and have lived in W12 for two years. In Italy I was working as a surveyor but when I arrived in London my English wasn't good enough, so I worked for two years as a waitress and bartender, attending ESOL courses at the same time.
"Before being taken on as an apprentice I was unemployed for a year. I kept myself busy volunteering for the Citizens Advice Bureau and an employment agency called Tendis, and also attending as many courses as I could.
"Volunteering at those organisations was challenging, but it definitely helped my English skills and motivated me to move forward.
"One of the courses that the Job Centre offered me was in business administration, so I started to think about a future in this field. I applied for an apprenticeship with Hammersmith & Fulham Council and gained a work placement in the health and safety team of the housing and regeneration department.
"This is my first experience in the public sector, and since I started I have learned so many things, such as new software and online systems. I've also learned a lot about the borough.
"When I started my apprenticeship, I was quite ambitious about improving my English – I set myself tough targets and was eager to learn fast.
"At first I struggled with things like the acronyms people use at work, and all the different accents of my colleagues, but gradually they became more familiar.
Improving my English has been hard, but using it every day when speaking to clients and colleagues has made me more comfortable and built my confidence.
"I now feel I am an equal, and my colleagues are great. They are always there to answer any questions for me – and I have a lot.
"The work I have done has been very interesting, and my colleagues have treated me professionally. Among many other things I have had the chance to arrange and organise courses, which is a huge responsibility, and I have loved every bit of it. This has been a great experience and I feel ready to apply for permanent jobs."
Get ahead
To find out about apprenticeships and work experience opportunities, call Clare Edgson on 020 8753 4053 or email clare.edgson@lbhf.gov.uk