Prevent and schools - guidance, key legislation, campaigns and links
Government publications
Home Office | Prevent Strategy
The Prevent Strategy contains three objectives: to respond to the ideological challenge of terrorism; to prevent people from being drawn into terrorism and ensure that they are given appropriate support; and to work with sectors and institutions where there may be risks of radicalisation that need to be addressed.
Home Office | Prevent duty guidance
The Counter-Terrorism and Security Act 2015 contains a duty on schools, colleges, and other specified authorities, to have due regard to the need to prevent people from being drawn into terrorism. These authorities must have regard to the attached guidance when complying with the duty.
Home Office | Channel guidance
Channel is a programme which focuses on providing support at an early stage to people who are identified as being vulnerable to being drawn into terrorism. This guidance has been issued under sections 36(7) and 38(6) of the Counter Terrorism and Security Act, and sets out the duty on local authorities and partners of local panels (including schools) to provide support for people who are vulnerable to being drawn into any form of terrorism
Department for education | Learning Together to Be Safe (pdf 1MB)
The DfE's Learning Together to Be Safe report presents the findings from a large-scale, in-depth research study into teaching methods – knowledge, skills, teaching practices and behaviours – that help to build resilience to extremism. The focus is on teaching methods to be used in a general classroom setting rather than as part of interventions targeted at those deemed at risk of extremism.
NaCTSO | Crowded Places Guidance
Although not strictly Prevent, the above document gives guidance on the increasing protection of crowded places from a terrorist attack.
REsilience Gateway | REC Gateway guide (pdf)
REsilience Gateway documents are designed to provide information to an individual school or teacher on a specific issue or concern. The linked document signposts answers to some of the key questions that pupils need to engage with in preparation for understanding the complexity of religious and theological contentious issues.
Each Gateway has been revised and approved by the Department for Education.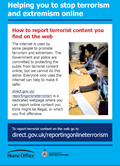 Reporting extremism poster July 2015 (gif)
Reporting extremist content online
Everyone who uses the internet can help to make it safer. The Home Office hosts a dedicated webpage where you can report online content that you think might be illegal, or which you find offensive.
Our local authority resources
LBHF & RBKC Prevent Team | Advice to Parents and Carers - LBHF (pdf) | Advice to Parents and Carers RBKC - (pdf)
The local authority Prevent team have produced some guidance for parents and carers on how to help keep children and young people safe from radicalisation and extremism. The guidance includes advice and practical tips on what positive steps can be taken to safeguard children and young people that are in ones care
External campaigns and resources
Show Racism the Red Card | Islamophobia education pack (pdf)
The attached Education Pack is intended to accompany the Show Racism the Red Card 'Islamophobia' DVD. The activities have been designed to help young people (from Key Stage 2 to adulthood) to challenge stereotypes and prejudice towards Muslims. It also seeks to impart a greater historical and political awareness of the climate which has enabled Islamophobia to flourish in recent times.
The Holocaust Centre 
The Holocaust Centre hosts outreach programmes and teaching materials to educate young people about the Holocaust and share lessons on combating prejudice and racism.
1001 Inventions
1001 Inventions examines the degree of shared heritage between the Muslim community and other communities in the UK, Europe and across the world.