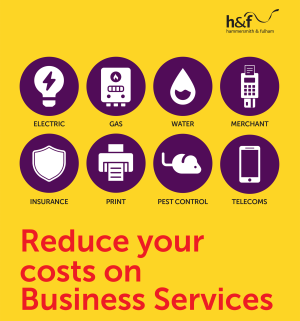 Business savings and support experts Place Support Partnership (PSP) have been appointed by the council to deliver a small business cost reductions programme across the borough following the success of a pilot in Shepherds Bush.
Please register your interest via the email or phone number below.
What does the programme involve?
H&F business owners will receive free cost savings support from the Place Support Partnership's panel of experts, who will provide specialist advice and support in the following areas:
electricity and gas
fixed line, mobiles and broadband services
merchant terminal and transaction fees for your card machines
water
business insurance
pest control
Who is the programme for?
This programme is free and available to businesses that meet the following criteria:
all established small or micro businesses in H&F
businesses looking for support and advice on managing their costs
businesses looking to achieve savings on their bills.
Saving thousands
Small businesses across the borough are saving thousands with PSP's free support.  
One Uxbridge Road café switched energy contracts to a new supplier whose quote was 32%, £4000, cheaper than their contractor's renewal offer. PSP also identified a new water contract, saving the business £168 annually, as well as a new monthly merchant account, saving the café a further £1,224 annually.
A restaurant in Shepherds Bush Market is saving £5,000 annually on their electricity bills.
PSP identified that because the business' electricity bills were inaccessible the restaurant's electricity contract had elapsed and they were being charged a much higher, out of contract, tariff. PSP helped the business switch to a new contract, and they are now reinvesting their savings into their business.
Register your interest if you would like to:
receive trusted expert business savings advice and support
understand your current position
identify trusted suppliers to work with
secure new contract opportunities with suppliers
implement new suppliers or technology to reduce your business costs
build a relationship with trusted partners to support you in the future.
Please contact info@placesupportpartnership.com or call 03330 156 289 to register your interest.